566. A Better Day: a bedtime story and relaxation for kids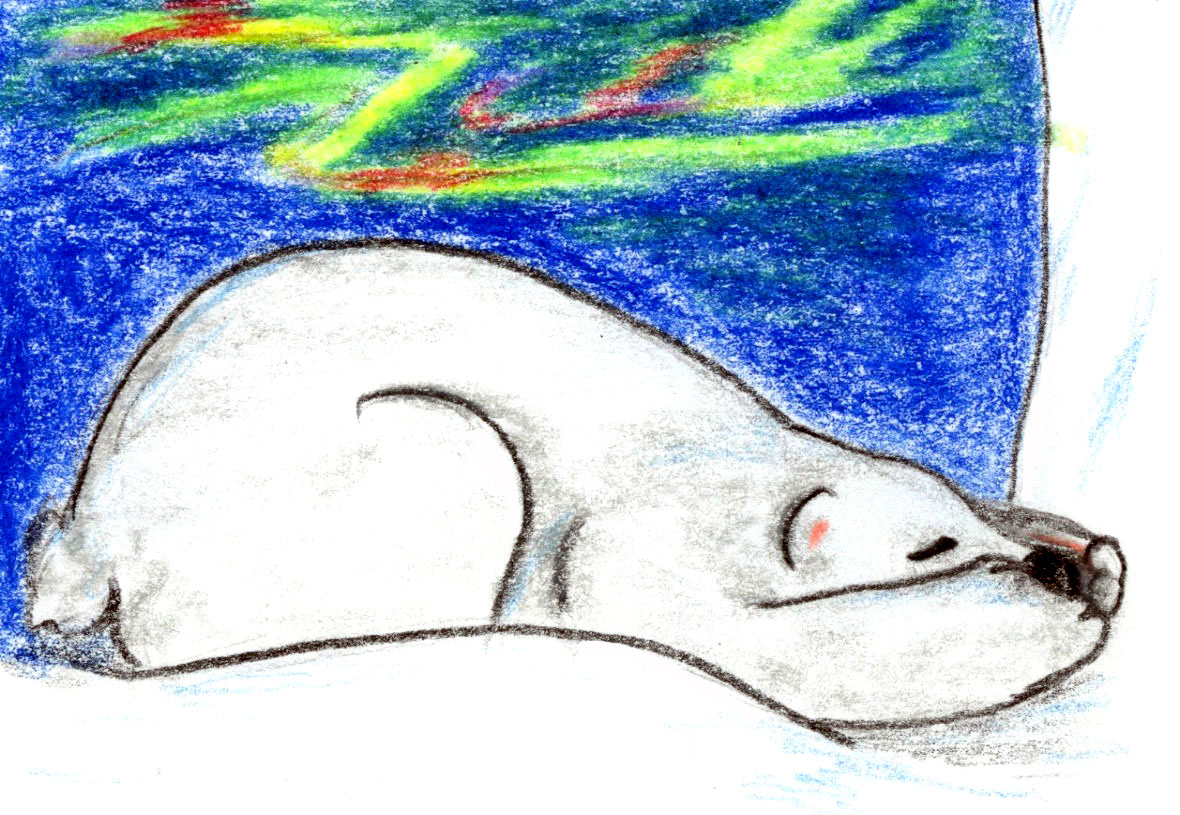 Bianca Polar Bear feels bored but her friend Beau Beluga helps her have a better day.
Narrator: Male
Story Begins: 4:30
A Better Day Excerpt:
It was a grey and breezy day. The wind blew all around the white snow on the Northern part of Ahway Island. The only animal to be seen outside in the blanket of white snow was Bianca Polar Bear. Bianca walked slowly around, occasionally kicking up the powdery snow that fell back to the ground like tiny bits of sugar.

Usually, Bianca would jump and play in the snow but today Bianca felt bored. She wasn't sure why, but she just didn't know what she wanted to do today. She sat in her den for a while, trying to take a nice, relaxing nap, but she felt restless. Usually, Bianca was very good at entertaining herself. She would play with the penguins on the ice or in the snow by herself. She even enjoyed housework: she especially liked to dig out her den whenever the wind blew too much snow around it. But today, Bianca didn't feel like doing any of those things.
Today's Meditation: Relax as you imagine sunlight warming you as you lie in a grassy meadow.
Looking for a way to help your child learn emotional regulation and how to self soothe? You'll find them on Ahway Island®. Be Calm on Ahway Island® Podcast offers original bedtime stories, like "Happy Dragon," paired with meditations for kids. We help them drift off to sleep with a guided relaxation and a calming story. Gently nestled within each podcast episode are mindfulness techniques and positive learning moments.  To learn more about our mission at Ahway Island and our team, please visit our website.
Creating the original bedtime stories and art for Be Calm on Ahway Island takes a lot of time and care.
As a listener-supported podcast, we truly appreciate our members on Patreon. If you're not already a member, please consider joining! Writing, recording, editing, and publishing episodes and managing digital platforms is an enormous endeavor. Our Patreon program will help continue to grow Ahway Island and we hope you will support us! You can choose from 3 different Membership Levels, all of which include access to our Archives and an extra episode each week!
Are you and your children enjoying our stories and self-soothing meditations?
We hope your child loved "A Better Day" We ask for your positive reviews to help others find us, too! Please leave a 5-star review on your favorite podcast app (such as Apple Podcasts). And, please follow, like, and/or share our social media profiles (Facebook, Twitter, Instagram ) to help us bring our original stories with positive messages to even more listeners!
In the press:
Jooki recommends us as an outstanding podcast for preschoolers.
SheKnows recommends us as as a podcast you and your kids will love!
We're honored that the website of Southwest Virginia Community Health Systems includes us on their list of Technology to Boost Mental Health.
Digital Trends warns listeners that "you may not make it through an entire episode fully conscious." Yay!
Thanks for listening to Be Calm On Ahway Island!