762. Wombat Whimsy: a meditation and story for kids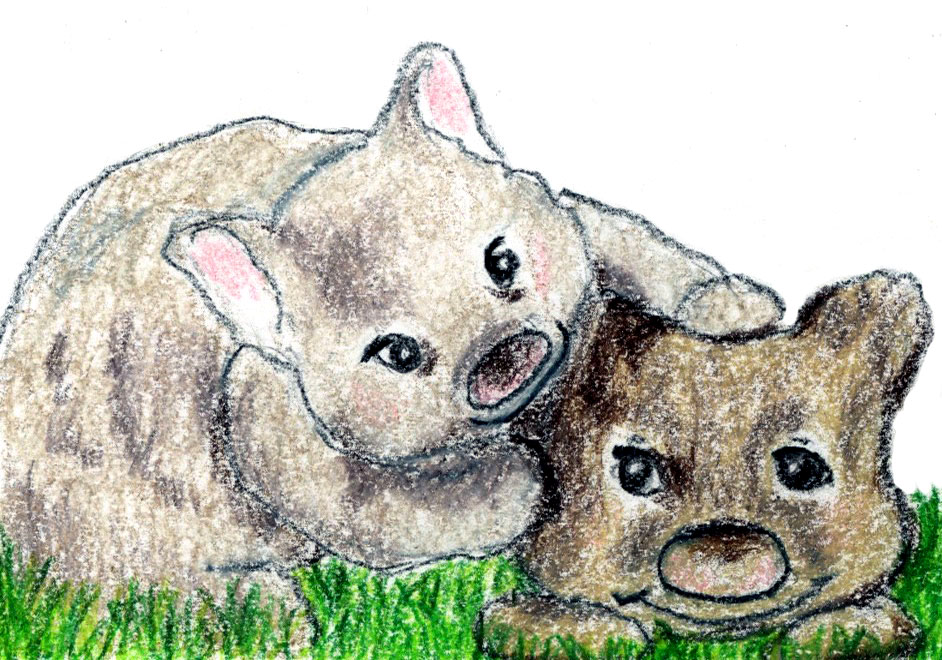 Wylie and Woodie the wombats have some nighttime fun, but an unexpected visitor shows up!
Narrator: Female
Story Begins: 4:26
Wombat Whimsy Excerpt:
It was a beautiful Ahway Island evening. The sky glowed with reds, pinks, oranges and purples, pretty as a painting. As the sun sank lower, the sky turned into a cozy, deep, deep blue blanket. Up above, the moon shined bright light a lantern, and the stars twinkled and sparkled.
In the heart of the forest, amidst the tall trees, a curious little wombat named Woodie slowly peeked out of his burrow. He wanted to see if any of his forest friends were awake and ready to have some nighttime fun. He sniffed the fresh breeze and took a deep dragon breath, in and out. It was crisp and refreshing, which meant it was a perfect night to play outside!
As he enjoyed the fresh air, another furry face popped out of a nearby burrow. It was Wylie Wombat, Woodie's best buddy, and he had that look in his eyes that said he was all set for a nighttime adventure. When Woodie saw Wylie, his smile grew even bigger. "Hey, Wylie! Are you up for some playtime?" he asked.
Today's Meditation: Imagine drawing gentle shapes in the soothing sand as you relax before today's story.
Creating the original bedtime stories and art for Be Calm on Ahway Island takes a lot of time and care.
As a listener-supported podcast, we truly appreciate our members on Patreon. If you're not already a member, please consider joining! Writing, recording, editing, and publishing episodes and managing digital platforms is an enormous endeavor. Our Patreon program will help continue to grow Ahway Island and we hope you will support us! You can choose from 3 different Membership Levels, all of which include access to our Archives and an extra episode each week!
Are you and your children enjoying our stories and self-soothing meditations?
Looking for stories that emphasize acceptance, understanding, and empathy? You'll find them on Ahway Island®. Be Calm on Ahway Island® Podcast offers original bedtime stories, like "Magical Chair" paired with meditations for kids. We help them drift off to sleep with a guided relaxation and a calming story. Gently nestled within each podcast episode are mindfulness techniques and positive learning moments.  To learn more about our mission at Ahway Island and our team, please visit our website.
In the press:
Read about how and why we created Ahway Island in this feature from Global Comment!
Zzz! The Boston Globe recommends "Be Calm on Ahway Island" as as one of "Eight Podcasts That Could Help You Get Some Sleep."
SheKnows recommends us as as a podcast you and your kids will love!
Digital Trends warns listeners that "you may not make it through an entire episode fully conscious." Yay!
Thanks for being calm with us. Until next time!