767. Dozing Dragon: a calming meditation and kid's story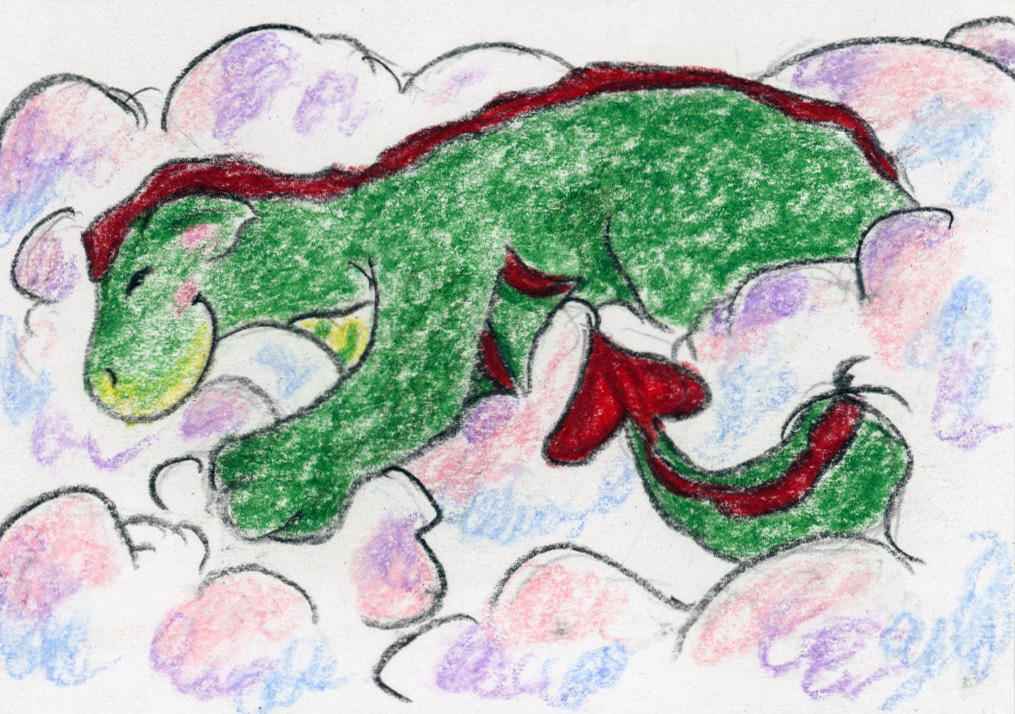 Some forest animals come across Dragon having a snooze!
Narrator: Female
Story Begins: 3:58
Dozing Dragon Excerpt:
In the wee hours of the morning, all of Ahway Island was calm. Waves gently rolled in on the beach. A soft breeze rustled the leaves on the trees in the animal sanctuary. The town sat quiet and serene with only an occasional vehicle vrooming toward its destination. In the very center of the Enchanted Forest, Dragon snoozed peacefully as sunlight began to peek over the horizon. It was very early morning, and the forest was just beginning to wake up.

As Dragon gently snored, shades of gray and purple sky turned to pink and orange and finally bright white as the brilliant sun emerged, warming the air and evaporating the overnight dew that had accumulated on the leaves of the trees and plants below.
Today's Meditation: Picture floating in the safe and comforting waters of a tranquil pool.
Creating the original bedtime stories and art for Be Calm on Ahway Island takes a lot of time and care.
As a listener-supported podcast, we truly appreciate our members on Patreon. If you're not already a member, please consider joining! Writing, recording, editing, and publishing episodes and managing digital platforms is an enormous endeavor. Our Patreon program will help continue to grow Ahway Island and we hope you will support us! You can choose from 3 different Membership Levels, all of which include access to our Archives and an extra episode each week!
Are you and your children enjoying our stories and self-soothing meditations?
Looking for a podcast to help settle your child in for nap time, bedtime or a break?  You'll find it on Ahway Island®. Be Calm on Ahway Island® Podcast offers original bedtime stories, like "Nap Time or Not?" paired with meditations for kids. We help them drift off to sleep with a guided relaxation and a calming story. Gently nestled within each podcast episode are mindfulness techniques and positive learning moments.  To learn more about our mission at Ahway Island and our team, please visit our website.
In the press:
Read about how and why we created Ahway Island in this feature from Global Comment!
Zzz! The Boston Globe recommends "Be Calm on Ahway Island" as as one of "Eight Podcasts That Could Help You Get Some Sleep."
SheKnows recommends us as as a podcast you and your kids will love!
Digital Trends warns listeners that "you may not make it through an entire episode fully conscious." Yay!
We're grateful for your time on Ahway Island. See you for the next story!