772. The Cheerful Cardinal: a relaxing bedtime story for children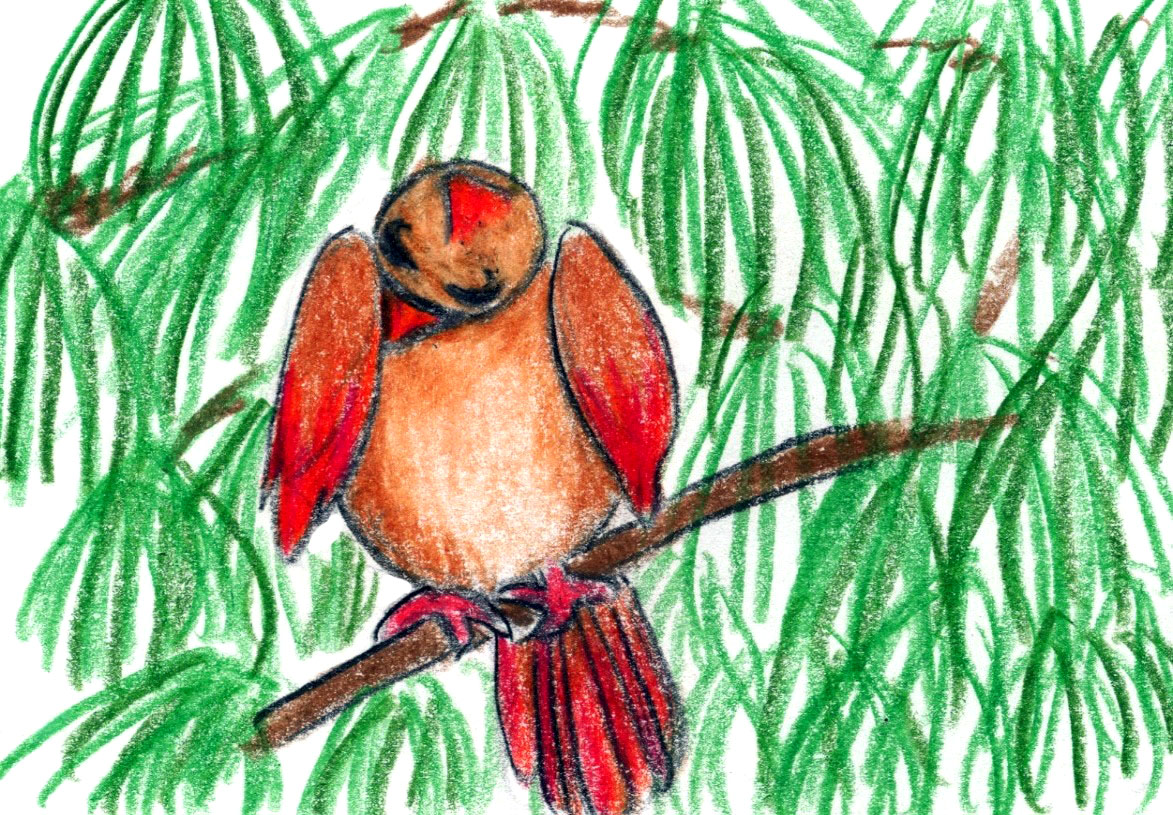 Carrie Cardinal notices that Owen isn't quite himself today, and decides to cheer him up.
Narrator: Female
Story Begins: 3:53
The Cheerful Cardinal Excerpt:
It was a gloomy, cloudy fall afternoon on Ahway Island. Owen was looking out the window, bored. Being on fall break from school, Owen thought he was going to be able to play outside today. Owen's parents said that he would have to play inside. His mom thought it looked like it was going to rain today, and she didn't want Owen to get muddy and wet. Owen didn't really see what the problem was because he thought playing in the rain seemed like a fun idea. But his mom had already made upher mind. So, instead of playing outside, Owen sat by the window, wishing he could be outside playing with his toys.

Carrie Cardinal sat on her branch in the maple tree outside Owen's window. She often spent her time looking into Owen's window. The world of humans often fascinated her. As she peered into the window, she saw Owen longingly looking outside. She wondered why a bright, energetic little boy looked so glum. She sat there and thought and thought. She remembered seeing Owen frequently play with his toys outside and wondered why he wasn't outside today. Maybe, the reason why he wasn't outside had something to do with why he looked so glum.
Today's Meditation: Imagine that you are a graceful willow tree in today's meditation.
Creating the original bedtime stories and art for Be Calm on Ahway Island takes a lot of time and care.
As a listener-supported podcast, we truly appreciate our members on Patreon. If you're not already a member, please consider joining! Writing, recording, editing, and publishing episodes and managing digital platforms is an enormous endeavor. Our Patreon program will help continue to grow Ahway Island and we hope you will support us! You can choose from 3 different Membership Levels, all of which include access to our Archives and an extra episode each week!
Are you and your children enjoying our stories and self-soothing meditations?
Looking for stories with positive learning moments for your little one? You'll find them on Ahway Island®. Be Calm on Ahway Island® Podcast offers original bedtime stories, like "Mystery Jug" paired with meditations for kids. We help them drift off to sleep with a guided relaxation and a calming story. Gently nestled within each podcast episode are mindfulness techniques and positive learning moments.  To learn more about our mission at Ahway Island and our team, please visit our website.
In the press:
Read about how and why we created Ahway Island in this feature from Global Comment!
Zzz! The Boston Globe recommends "Be Calm on Ahway Island" as as one of "Eight Podcasts That Could Help You Get Some Sleep."
SheKnows recommends us as as a podcast you and your kids will love!
Digital Trends warns listeners that "you may not make it through an entire episode fully conscious." Yay!
Thanks for exploring Ahway Island. We'll be back with more adventures soon!