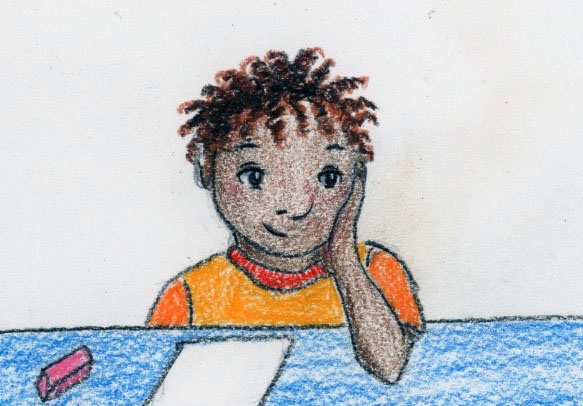 Podcast: Play in new window | Download
Subscribe: Apple Podcasts | Android | Google Podcasts | Stitcher | TuneIn | Spotify
Today's Story
Owen is inspired and begins to write a story but gets stuck. Fortunately, it's Dad to the rescue! He helps Owen learn the importance of taking a break to feel refreshed.
Narrator: Male
Dad to the Rescue Story Excerpt:
"How's it going?" his dad said.
"I'm stuck. I can't figure out how to start the story."  Owen said, feeling frustrated.
"You've been working pretty hard at this, I think maybe you should take a break."  Owen's dad suggested.
"That's OK, dad. I can do this. I don't need a break." Owen said.
"Owen, a break isn't quitting, it is giving yourself the option to find new ideas by doing something completely different. I take breaks all the time when I am stuck. Then when I come back, I have a fresh new idea. What would you like to do for a break?" his dad asked.
"It looks pretty nice outside. Maybe I'll play for a bit." Owen said with a sigh. He still wanted to finish his story.
Today's Meditation: Relax in the grass as you imagine sunlight warming you from head to toe.
Looking for a way to help your child with emotional regulation?  You'll find them on Ahway Island. Be Calm on Ahway Island Podcast offers original bedtime stories, like "Dad to the Rescue" paired with meditations for kids. We help them drift off to sleep with a guided relaxation and a calming story. Gently nestled within each podcast episode are mindfulness techniques and positive learning moments.  To learn more about our mission at Ahway Island and our team please visit our website.
Creating the original bedtime stories and art for Be Calm on Ahway Island takes a lot of time and care.
Since we are a listener-supported podcast, we survive on your tips and purchases. If your child enjoys a good story for nap time we would greatly appreciate you purchasing a T-shirt from our shop or making a donation to help us keep your favorite self-soothing podcast going. You can make a one-time donation or a recurring micro donation once a month. Just click on the link below or go to our website, www.ahwayisland.com.
We hope your child loves our stories and self-soothing meditations. If so, we need your positive reviews to help others find us too. It's fast and easy! Just tap this link: review here, then tap the "view in iTunes" button, tap "ratings and reviews," and leave your review.
Also, We would appreciate your help getting the word out about Ahway Island bedtime stories podcast on social media.  Please follow us on Facebook, Twitter  and YouTube.
Thank you!  Here's another episode you're sure to enjoy Chipmunk Chase: Bedtime Story and Guided Meditation