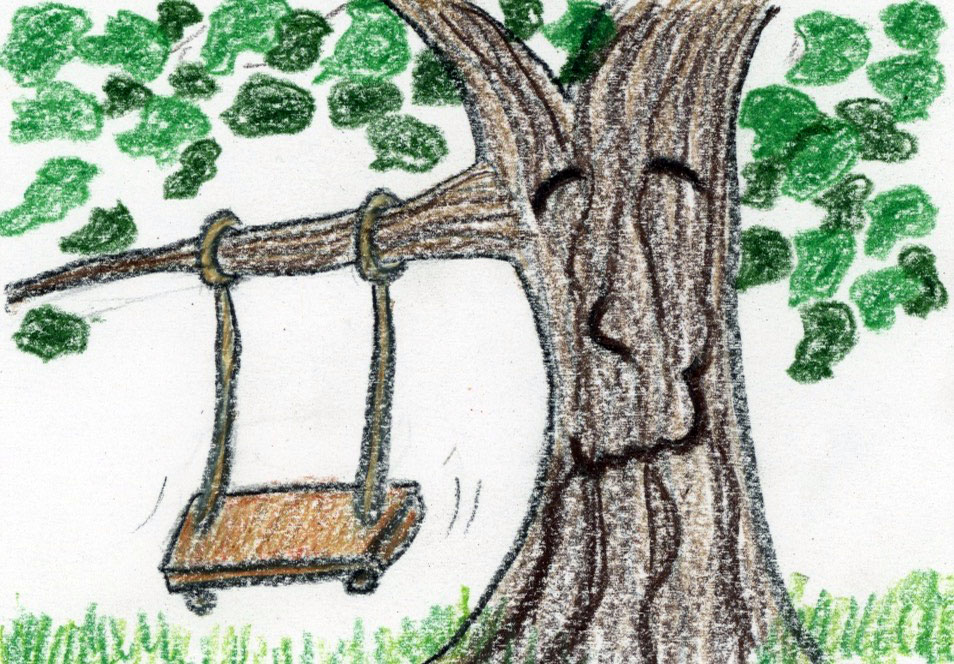 Podcast: Play in new window | Download
Subscribe: Apple Podcasts | Android | Google Podcasts | Stitcher | TuneIn | Spotify | RSS | More
Opie the Oak tree tries to figure out what the people are up to.  Then they put a swing on his branch and it tickles. Who ever heard of a ticklish tree?
Hello everyone!  We hope you enjoyed our new story, "Laugh Out Loud", Monday! Sometimes we like to listen to our favorites again. Welcome to Favorite Friday! Please enjoy "A Ticklish Tree" and we'll be back with a new story on Monday!Final 3 Dragon Breaths: 8:43
Narrator: Male
A Ticklish Tree Excerpt:
The four trees were curious to see what the people would do.   The mom and dad carried the rope and board right up to Opie.  Then the people walked around the Oak looking up at his branches.  Opie was proud of his branches. As he watched the people, the Oak noticed they had stopped just below his lowest branch.  It was a good strong branch that stretched straight out.  Then the dad left as the mom gazed at the branch smiling.  Opie wondered what was going on.

Then he saw the dad return with a ladder.  He carried it right up to Opie and set it up just under the branch.  Then the mom handed the dad the end of the rope.  The dad took it and tied it around Opie's branch with a big sturdy knot.   The Oak felt a funny feeling on his branch.  The rope tickled him.  He began to giggle a little.  Then his leaves began to rustle. Before he knew it, there was another rope tied to his branch.  The same funny sensation traveled to that spot.
"What's going on Opie?" Pete the Pine asked.  Opie began to laugh so hard he couldn't answer.
Today's Meditation: Deep dragon breaths are a key part of this guided meditation as you relax your body from your toes up to the top of your head.
Looking for a way to help your child with emotional regulation?  You'll find them on Ahway Island. Be Calm on Ahway Island Podcast offers original bedtime stories, like "A Ticklish Tree" paired with meditations for kids. We help them drift off to sleep with a guided relaxation and a calming story. Gently nestled within each podcast episode are mindfulness techniques and positive learning moments.  To learn more about our mission at Ahway Island and our team please visit our website.
Be Calm on Ahway Island offers you original bedtime stories, like " A Ticklish Tree " paired with meditations for kids. Gently nestled within each story are self-soothing techniques and positive learning moments. Creating the original bedtime stories and art for Be Calm on Ahway Island takes a lot of time and care. Since we are a listener-supported podcast, we survive on your tips. So, if your child enjoys Be Calm on Ahway Island podcast, please make a donation to help us keep going. You can make a one-time donation or a recurring micro donation once a month for less than the cost of a cup of coffee. Just click on the link below or go to our website, www.ahwayisland.com.
Overall, do you enjoy our stories and self-soothing meditations?
We hope your child loved "A Ticklish Tree." If so, we need your positive reviews to help others find us too. Please leave a 5 star review on your favorite podcast app like Apple Podcasts, our Amazon Alexa Skill page, or our social media pages to share your enthusiasm for our original stories with a positive message!
Please follow us on  Facebook, Twitter, Instagram and YouTube. Thank you for your help in spreading the word about our bedtime stories podcast, Be Calm on Ahway Island! As a result of your support you can check us out in the Washington Post article The 25 Best Podcasts for Kids by Frannie Ucciferri under the Best for Bedtime heading. We're also proud to be included in the Top 40 Growth Mindset Podcasts for Kids from Big Life Journal. Discover our top 10 listing in Feedspot's top 20 Kids Podcasts of 2019 ! Our most recent accolade is from ListenNotes, as one of 9 best podcasts for kids that entertain and educate! Thanks again and keep spreading the word!
One more thing, did you know we also have a YouTube channel? Check out the video page on our website AhwayIsland.com. We hope you enjoy the calming videos and share our channel with others.
Did "A Ticklish Tree" help you relax? "Curious Baby Whale" is just as calming! Thank you for all your support of Be Calm on Ahway Island!