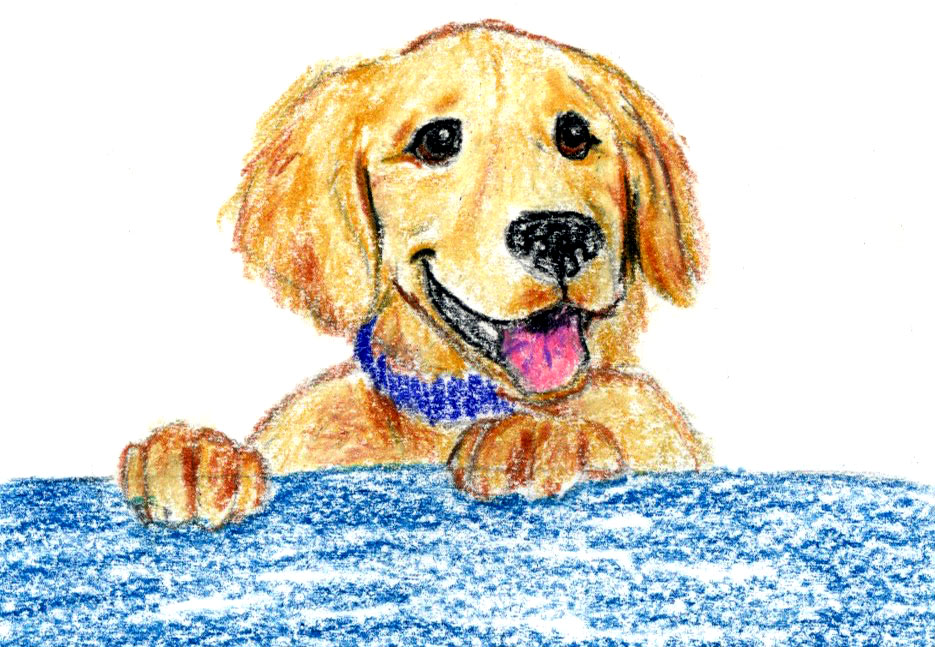 Podcast: Play in new window | Download
Subscribe: Apple Podcasts | Google Podcasts | Spotify | Pandora | iHeartRadio | Stitcher | TuneIn | Deezer | RSS | More
Pal the golden retriever is ready for another adventure. He decides to go for a bus ride, but today there is a different driver. Will Pal get to ride?
Hello everyone!  We hope you enjoyed our new story this week. Now, welcome to Favorite Friday! Sometimes we like to listen to our favorites again. Please enjoy "Pal Rides Again" and we'll be back with a new story on Monday!
Narrator: Female
Final 3 Dragon Breaths: 7:34
Pal Rides Again Excerpt:
It started out as an ordinary day. Pal, the little puppy darted in between and around the boy and girl's feet as they rushed around the kitchen. With a "See you later," the boy and girl left for school. Now Pal just had to make it through the boring morning. The little puppy settled into his bed with a chewy toy and worked on that for a while. He hopped up and had a snack around lunchtime and then the little puppy heard a rumble outside. With paws on the window ledge, Pal peered outside. It was the city bus! Pal barked a happy woof as the bus rolled by. His tail wagged, back and forth, back and forth. Pal's bus was next!

The little puppy climbed out through the dog door and ran over to wait at the bus stop. He had been riding the bus every day since the first day of school. As people arrived to wait for the next bus they patted Pal on the head, and said, "Good afternoon Pal! How are you today?" The energetic little puppy's tail wagged non-stop. Then Pal froze in place and listened. He heard a rumble in the distance. The bus was on its way! He zipped around all the people, and they said, "Pal's telling us it's time to line up." Everyone lined up, ready for the bus. Pal took his place at the back of the line.

The bus stopped, and the people climbed the steps. As Pal placed his paw on the first step, the driver said, "Shoo, shoo." frowning at the little puppy. Pal felt a little confused, after all he always rode the bus. The little puppy sniffed the air to see what was different. He smelled a different smell, and heard the people say, "It's ok. He always rides the bus. Pal gets off at the school. You'll see." Pal looked at the driver and realized that the driver was different today. The substitute driver shrugged his shoulders and said, "Ok, but if he's still on the bus after the school, one of you is taking him with. I can't have a dog on my bus all day." And with that Pal took his spot in the first seat. The little puppy settled in and looked out the window, his tail wagging and wagging.
Today's Meditation: Gently sway like the graceful willow tree in today's meditation.
Looking for stories with positive learning moments for your little one? You'll find them on Ahway Island®. Be Calm on Ahway Island® Podcast offers original bedtime stories, like "Pal Rides Again," paired with meditations for kids. We help them drift off to sleep with a guided relaxation and a calming story. Gently nestled within each podcast episode are mindfulness techniques and positive learning moments.  To learn more about our mission at Ahway Island and our team, please visit our website.
Creating the original bedtime stories and art for Be Calm on Ahway Island takes a lot of time and care.
As a listener-supported podcast, we truly appreciate our members on Patreon. If you're not already a member, please consider joining! Writing, recording, editing, and publishing episodes and managing digital platforms is an enormous endeavor. Our Patreon program will help continue to grow Ahway Island and we hope you will support us! You can choose from 3 different Membership Levels, all of which include access to our Archives and an extra episode each week!
Are you and your children enjoying our stories and self-soothing meditations?
We hope your child loved "Pal Rides Again!" We ask for your positive reviews to help others find us, too! Please leave a 5-star review on your favorite podcast app (such as Apple Podcasts). And, please follow, like, and/or share our social media profiles (Facebook, Twitter, Instagram ) to help us bring our original stories with positive messages to even more listeners!
In the press:
SheKnows recommends us as as a podcast you and your kids will love!
Digital Trends warns listeners that "you may not make it through an entire episode fully conscious." Yay!
Thanks, Mommy Poppins, for saying our "soothing stories are like melatonin for the soul!" ♡
Jooki recommends us as an outstanding podcast for preschoolers.
We're honored that the website of Southwest Virginia Community Health Systems includes us on their list of Technology to Boost Mental Health.
Thank you for your help in spreading the word about our bedtime stories podcast, Be Calm on Ahway Island!