Be Calm on Ahway Island® Podcast features relaxing, original short stories for kids! Each episode begins with a guided meditation and contains a positive message — perfect for bedtime, nap time, or any time it's relax time!
You can subscribe to (or follow) our podcast on Apple Podcasts, Spotify, Amazon Music, or your favorite podcast app, including those listed below.
You can also listen to our latest episodes (plus exclusive content) on YouTube — please subscribe to our YouTube Channel!
Want even more Ahway Island? Consider becoming a Member on Patreon! Ahway Island Patreon Members get an extra episode every Wednesday, access to our archive of older episodes, and much more! Looking for a favorite past episode? It's probably on Patreon — and if it isn't, let us know!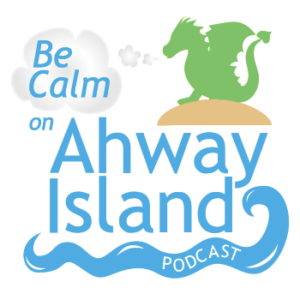 Ahway Island is on YouTube!
Head to our YouTube channel to listen to our latest episodes and catch our EXCLUSIVE animated video!
Exclusive Episode
Our Channel
Listen on these popular podcast platforms & apps...​
...Or listen on these platforms designed just for kids!​
Looking for something specific?
Browse by Learning Message or Character Type
Our stories are categorized by main Character Type (Kids, Animals, Dragon, Vehicles, or Toy/Tools), by Narrator, and by primary Learning Message. For additional story tags (e.g. specific character names or secondary Learning Messages and themes), please use the search feature.
You can search by episode number, title, character name, or keyword. Can't find a specific story? It may be retired or available only within our Patreon Archives.
Listen to the latest episodes
Join the Ahway Island
Mailing List!
Subscribe to the Ahway Island Newsletter and get access to an exclusive episode featuring Odette Octopus!
Subscribe