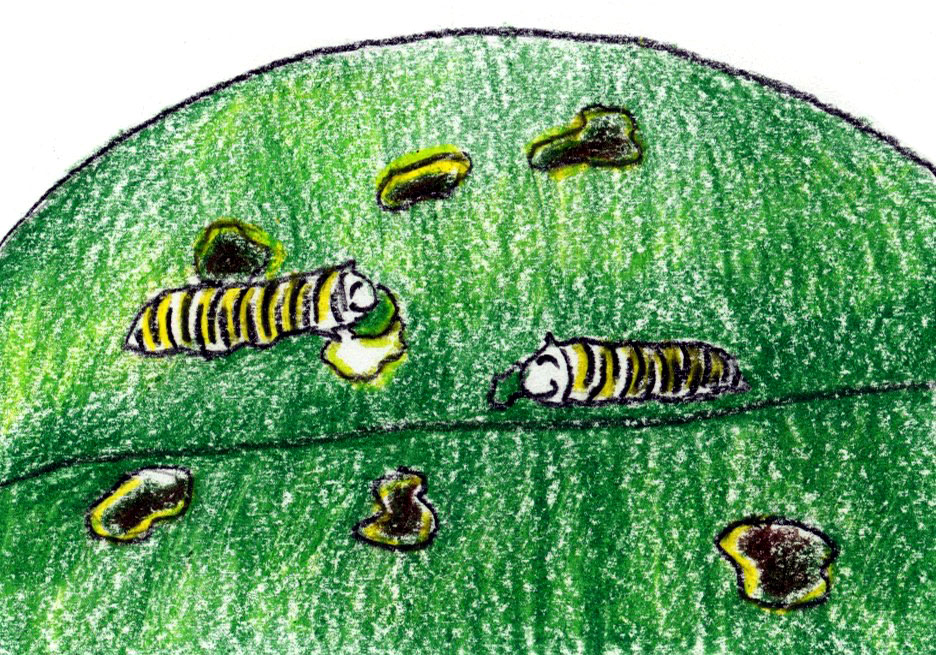 Podcast: Play in new window | Download
Subscribe: Apple Podcasts | Google Podcasts | Spotify | Pandora | iHeartRadio | Stitcher | TuneIn | Deezer | RSS | More
Mac and Marley the caterpillars wake up to find they have changed. What will they find?
Hello everyone!  We hope you enjoyed our new story this week. Now, welcome to Favorite Friday! Sometimes we like to listen to our favorites again. Please enjoy "Fly Away" and we'll be back with a new story on Monday!
Narrator: Female
Final 3 Dragon Breaths: 6:40
Fly Away Excerpt:
The dragon peeked at the pair of chrysalises in the bush. It had been days since Mac and Marley, the caterpillars, had rested there, and the dragon was hoping that they were ready to come out again.  The chrysalises had already become clear.  The dragon could see something orange and black.  As the dragon watched, the chrysalises began to wiggle.  The excited dragon knew it was time!  

Slowly, Marley climbed out of the tight home she had napped in for days.  She looked over at Mac and smiled when she saw him start to emerge from his little home.  Hanging upside down from the branch, Marley began to stretch her wrinkly new wings.  Wait a minute. She had wings?  She looked over at Mac and noticed he had wings too!  When Marley settled in for her nap, she had been a yellow, white and black striped caterpillar. Now, both she and Mac looked like the orange and black butterfly they had seen twirling through the flowers!  Well kind of,… her wings were pretty wrinkled. As she waited for them to relax and lengthen she called to Mac.

"Hey Mac!  Look at this! I have wings! And you do too!" She exclaimed.  

Mac smiled at her as he hung upside down and said, "I know! Just wait until they're relaxed.  Right now mine are so crinkled. But it gives me a chance to enjoy the view.  I've never seen the world from this angle."

"What upside down?" Marley asked.

"Yep!" Mac said.  "Isn't it neat!"

"It sure is! Marley replied.  "I like the lines underneath the leaves, they're so delicate and pretty."

"I like how the light shines up through my feet," Mac said.
Today's Meditation: Today, enjoy the feeling of your body relaxing into the warm sand on a sunny beach.
Looking for stories that emphasize acceptance, understanding, and empathy? You'll find them on Ahway Island®. Be Calm on Ahway Island® Podcast offers original bedtime stories, like "Fly Away," paired with meditations for kids. We help them drift off to sleep with a guided relaxation and a calming story. Gently nestled within each podcast episode are mindfulness techniques and positive learning moments.  To learn more about our mission at Ahway Island and our team, please visit our website.
Creating the original bedtime stories and art for Be Calm on Ahway Island takes a lot of time and care.
As a listener-supported podcast, we truly appreciate our members on Patreon. If you're not already a member, please consider joining! Writing, recording, editing, and publishing episodes and managing digital platforms is an enormous endeavor. Our Patreon program will help continue to grow Ahway Island and we hope you will support us! You can choose from 3 different Membership Levels, all of which include access to our Archives and an extra episode each week!
Are you and your children enjoying our stories and self-soothing meditations?
We hope your child loved "Fly Away!" We ask for your positive reviews to help others find us, too! Please leave a 5-star review on your favorite podcast app (such as Apple Podcasts). And, please follow, like, and/or share our social media profiles (Facebook, Twitter, Instagram ) to help us bring our original stories with positive messages to even more listeners!
In the press:
Digital Trends warns listeners that "you may not make it through an entire episode fully conscious." Yay!
SheKnows recommends us as as a podcast you and your kids will love!
We're reaching listeners internationally! Sassy Mama Hong Kong included us in their article on transitioning into the new year, Sassy Mama Singapore recommends us for limiting screen-time while sheltering at home, and Haven Magazine Australia included us in their tips for getting through the school holidays.
Thanks, Mommy Poppins, for saying our "soothing stories are like melatonin for the soul!" ♡
We're included in 8 Snow Day Activities That the Whole Family Will Enjoy!
Thank you for your help in spreading the word about our bedtime stories podcast, Be Calm on Ahway Island!