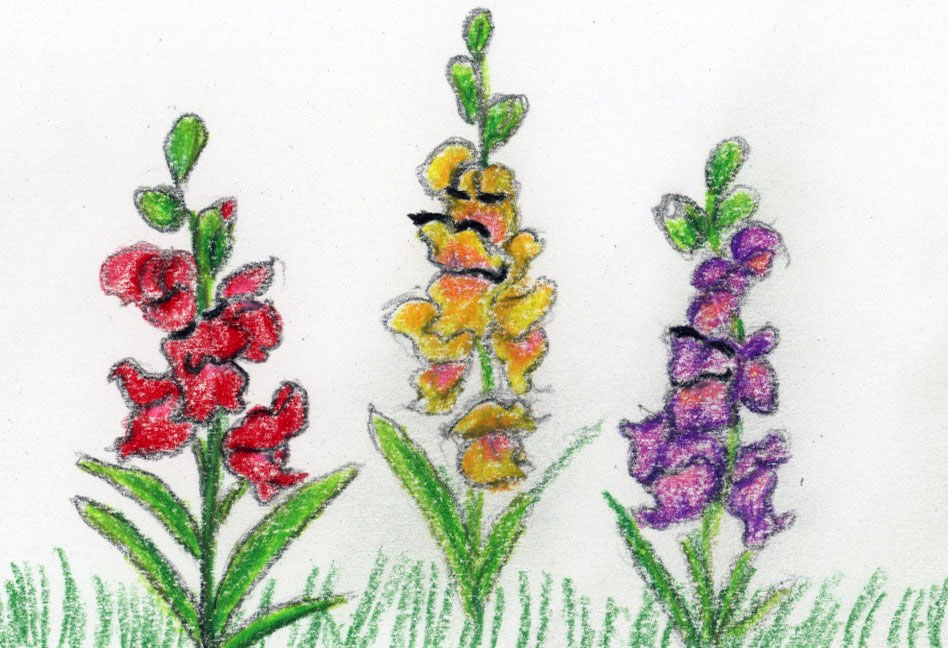 Podcast: Play in new window | Download
Subscribe: Apple Podcasts | Google Podcasts | Spotify | Pandora | iHeartRadio | Stitcher | TuneIn | Deezer | RSS | More
It's Ian and Mike's turn to check on the community garden and it has really changed since they saw it last.
Narrator: Male
Final 3 Dragon Breaths: 7:15
How Does Our Garden Grow? Excerpt:
Fluffy clouds drifted across the morning sky as the sun looked for an opening to shine down. It found that opening and sent a cozy sunbeam through Ian's window. Ian felt the warmth and smiled. His eyes fluttered open and he sat up. Today was his day to check on the garden and he felt curious to see how the plants were doing.

After he dressed, Ian hurried downstairs to eat breakfast. As he ate he kept watching the time. Mike could be there any minute and he didn't want to be late.

Seeing Ian shoveling his food down, Ian's dad said, "Slow down, buddy. If Mike gets here early, he'll wait for you. Let's take a deep dragon breath."

Ian really wanted to keep eating, but he knew his dad was right. So, he took a deep dragon breath, in and out, and felt a bit more relaxed. Ian had enough time to finish his breakfast and help his dad do the dishes before Mike got there.

As they finished putting the last clean dish away the doorbell rang. Ian hurried to the door and pulled it open. Waiting there, with a big smile, was Mike.

"Are you ready to see what is growing in our garden?" Mike asked.
Today's Meditation: Happiness and love flow through you in this meditation.
Looking for a podcast to help settle your child in for nap time, bedtime or a break? You'll find it on Ahway Island®. Be Calm on Ahway Island® Podcast offers original bedtime stories, like "How Does Our Garden Grow?" paired with meditations for kids. We help them drift off to sleep with a guided relaxation and a calming story. Gently nestled within each podcast episode are mindfulness techniques and positive learning moments.  To learn more about our mission at Ahway Island and our team, please visit our website.
Creating the original bedtime stories and art for Be Calm on Ahway Island takes a lot of time and care.
As a listener-supported podcast, we truly appreciate our members on Patreon. If you're not already a member, please consider joining! Writing, recording, editing, and publishing episodes and managing digital platforms is an enormous endeavor. Our Patreon program will help continue to grow Ahway Island and we hope you will support us! You can choose from 3 different Membership Levels, all of which include access to our Archives and an extra episode each week!
Are you and your children enjoying our stories and self-soothing meditations?
We hope your child loved "How Does Our Garden Grow?" We ask for your positive reviews to help others find us, too! Please leave a 5-star review on your favorite podcast app (such as Apple Podcasts). And, please follow, like, and/or share our social media profiles (Facebook, Twitter, Instagram ) to help us bring our original stories with positive messages to even more listeners!
In the press:
Thank you to Anne Bensfield and Pamela Rogers of School Library Journal for listing us as one of "8 Podcasts To Encourage Mindfulness!"
We're honored that the website of Aitkin County, Minnesota lists us as a resource for boosting mental health in kids during COVID-19. The website of Southwest Virginia Community Health Systems also includes us on their list of Technology to Boost Mental Health.
406 Families of Missoula lists us on their Favorite Podcasts for Kids roundup!
Jooki recommends us as an outstanding podcast for preschoolers.
We're reaching listeners internationally! Sassy Mama Hong Kong included us in their article on transitioning into the new year, Sassy Mama Singapore recommends us for limiting screen-time while sheltering at home, and Haven Magazine Australia included us in their tips for getting through the school holidays.
Thank you for being calm with us on Ahway Island!