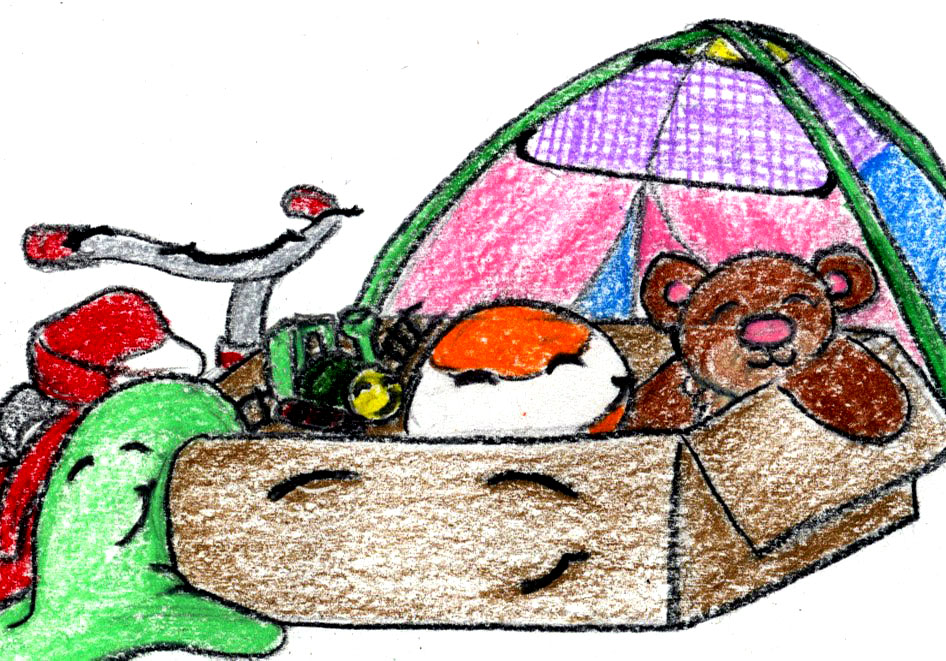 Podcast: Play in new window | Download
Subscribe: Apple Podcasts | Android | Google Podcasts | Stitcher | TuneIn | Spotify | RSS | More
Colorful crayons rest in their container. Soon they begin to slide out onto the table. What masterpieces will the crayons help create today?
Final 3 Dragon Breaths: 7:18
Narrator: Male
Colorful Crayons Excerpt:
"I wonder what we'll help create today." Soon all the crayons awakened, eager to do their part in creating today's art.

As the crayons murmured excitedly, one of the kids picked up the box and turned it sideways, gently sliding the crayons out of their bed and onto the table.

"Whee!" Yellow giggled as she tumbled out.

Green laughed as he rolled across the table, only stopped by the pad of paper.

Blue jumped out of the container shouting, "Let's go!" while Violet held on to the edge of the box, not wanting to leave her comfy bed. It took a little shake for her to leave the warm container, followed by Brown and Black, who had been waiting for Violet so they could join the fun. Now that all the crayons were out, they all took a deep dragon breath, in and out (deep breath) as they waited to see what they would be creating today.
Today's Meditation: Feel calm and relaxed as you send kind energy to your heart.
Looking for stories with positive learning moments for your little one?  You'll find it on Ahway Island®. Be Calm on Ahway Island® Podcast offers original bedtime stories, like "Colorful Crayons" paired with meditations for kids. We help them drift off to sleep with a guided relaxation and a calming story. Gently nestled within each podcast episode are mindfulness techniques and positive learning moments.  To learn more about our mission at Ahway Island and our team please visit our website.
Creating the original bedtime stories and art for Be Calm on Ahway Island takes a lot of time and care.
Since we are a listener-supported podcast, we survive on your tips and purchases. If your child enjoys a good story with a positive message, we would greatly appreciate you purchasing a T-shirt from our shop or making a donation to help us keep your favorite self-soothing podcast going. You can make a one-time donation or a recurring micro donation once a month. Just click on the link below or go to our website, www.ahwayisland.com.
Overall, do you enjoy our stories and self-soothing meditations?
We hope your child loved "Colorful Crayons" If so, we need your positive reviews to help others find us too. Please leave a 5 star review on your favorite podcast app like Apple Podcasts, our Amazon Alexa Skill page, or our social media pages to share your enthusiasm for our original stories with a positive message!
Please follow us on  Facebook, Twitter, Instagram and YouTube.
Thank you for your help in spreading the word about our bedtime stories podcast, Be Calm on Ahway Island!
As a result of your support you'll find us ranking among the best in the Washington Post article The 25 Best Podcasts for Kids by Frannie Ucciferri under the Best for Bedtime heading. We're proud to be included in the Top 40 Growth Mindset Podcasts for Kids from Big Life Journal. Feedspot placed us at the #3 spot on their Top 15 Children's Bedtime Stories Podcasts of 2019 list, in the top 10 of their Top 20 Kids Podcasts of 2019 and 2020 list! ListenNotes, included us in their list of the 9 best podcasts for kids that entertain and educate and VeryWellMind listed us as one of the 20 Best Meditation Podcasts to Listen to in 2019 in an article by Sara Lindberg, M.Ed!
Our most recent accolades are:
As a recommended bedtime podcast for kids on Georgetown Hill's Early School website, from Parentology, as one of the 15 Most Popular Podcasts for Kids, Tweens, and Teens! We're also reaching listeners internationally! Sassy Mama in Hong Kong included us in their article on transitioning into the new year, while Haven magazine in Australia included us in their tips for getting through the school holidays.
Guess what! We're problem solvers!
Be Calm on Ahway Island podcast is part of the solution in this question and answer article by Torie Henderson on what to do when your kids are staying up late. We're also included in 8 Snow Day Activities That the Whole Family Will Enjoy.
Thanks again and keep spreading the word!
One more thing, did you know we also have a YouTube channel? Check out the video page on our website AhwayIsland.com. We hope you enjoy the calming videos and share our channel with others.
Did you find "Colorful Crayons" relaxing? Try "Pup Games" for another soothing story.
Thank you for all your support!