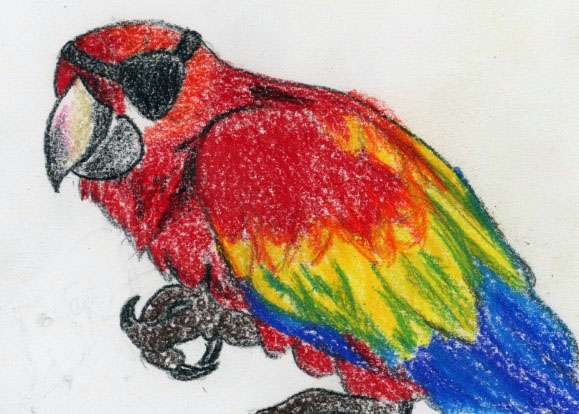 Podcast: Play in new window | Download
Subscribe: Apple Podcasts | Android | Google Podcasts | Stitcher | TuneIn | Spotify | RSS | More
Knowing he needs help from the boats to find his treasure Pendelton practices being a polite parrot. Meanwhile, the boats practice talking like a pirate to talk with the parrot.
Hello everyone!  Today we have a bonus episode! For a little fun on Talk like a Pirate Day we have a new story. We hope you enjoy "Polite Parrot!"
Final 3 Dragon Breaths: 7:03
Narrator: Male
Polite Parrot Excerpt:
As the sailboat wondered where Zig-Zag had gone she spotted a bright red bird zig-zagging her way. She smiled and announced to the others in her best pirate voice. "Be ye ready? I spy a scurvy pirate bird on the wind."

Manny the motorboat followed her gaze to the red bird. Sure enough, there were blue and yellow feathers on the bird's wings and a tell-tale patch of black feathers over one eye. Manny responded eagerly in his best pirate voice.  "Aye! Zig Zag be returning to seek out the lost pirate booty."

Sandy the sailboat had been teaching all the boats how to speak Pirate ever since Zig-Zag's last arrival. She giggled as the pirate bird grew closer and asked, "Yarrrr me hearties. Is everyone shipshape and ready for an adventure?"

"Shiver me Timbers." Teagan the tugboat said. "Be Zig-Zag returning this day?"

Almost in response the pirate parrot landed on Sandy's bow and said, "Good morning, fine yacht. Would you be able to assist me in the search for my treasure?"

The boats sat silently, surprised at how the pirate parrot's manners had changed.
Today's Meditation: Feel calm and relaxed as you send kind energy to your heart.
Looking for a way to help your child with emotional regulation?  You'll find them on Ahway Island. Be Calm on Ahway Island Podcast offers original bedtime stories, like "Polite Parrot" paired with meditations for kids. We help them drift off to sleep with a guided relaxation and a calming story. Gently nestled within each podcast episode are mindfulness techniques and positive learning moments.  To learn more about our mission at Ahway Island and our team please visit our website.
Creating the original bedtime stories and art for Be Calm on Ahway Island takes a lot of time and care.
Since we are a listener-supported podcast, we survive on your tips and purchases. If your child enjoys a good story for nap time we would greatly appreciate you purchasing a T-shirt from our shop or making a donation to help us keep your favorite self-soothing podcast going. You can make a one-time donation or a recurring micro donation once a month. Just click on the link below or go to our website, www.ahwayisland.com.
We hope your child loved "Polite Parrot."  Do you enjoy our stories and self-soothing meditations? If so, we need your positive reviews to help others find us too. Please leave a review on your favorite podcast app or our social media pages!
Please follow us on  Facebook, Twitter, Instagram and YouTube. Thank you for your help in spreading the word about our bedtime stories podcast, Be Calm on Ahway Island! As a result of your support you can check us out in the Washington Post article The 25 Best Podcasts for Kids by Frannie Ucciferri under the Best for Bedtime heading. We're also proud to be included in the Top 40 Growth Mindset Podcasts for Kids from Big Life Journal. Discover our top 10 listing in Feedspot's top 20 Kids Podcasts of 2019 ! Our most recent accolade is from ListenNotes, as one of 9 best podcasts for kids that entertain and educate! Thanks again and keep spreading the word!
One more thing, did you know we also have a YouTube channel? Check out the video page on our website AhwayIsland.com. We hope you enjoy the calming videos and share our channel with others.
We hope "Polite Parrot" was lots of fun! If you need more relaxation try "What's the Weather." Thanks for your support!