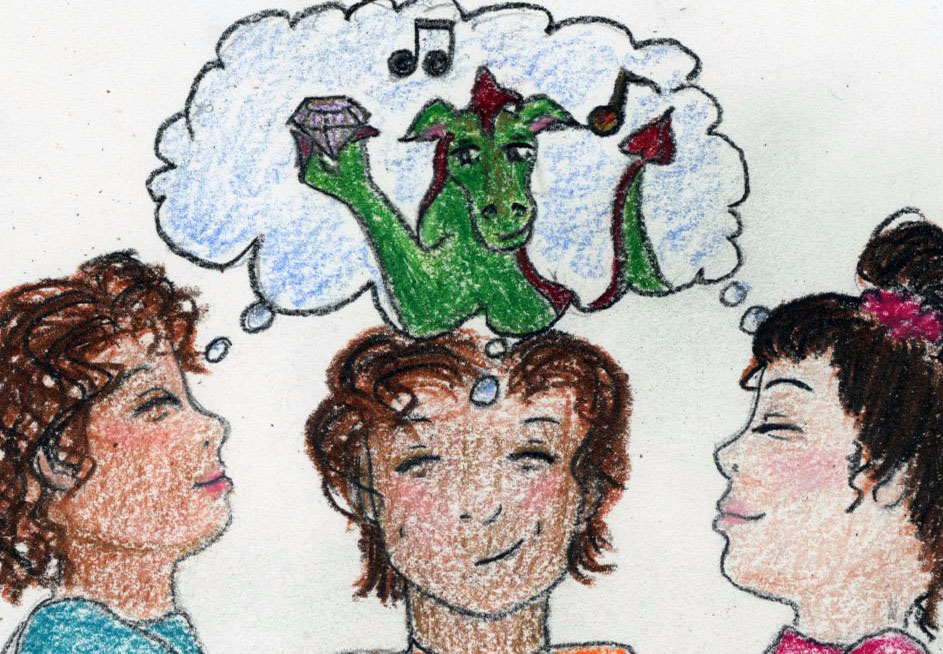 Podcast: Play in new window | Download
Subscribe: Apple Podcasts | Android | Google Podcasts | Stitcher | TuneIn | Spotify
It's nearly show time for Rogelio, Helen, and Brianna. So, Rogelio searches for a spot in the park to rehearse their original dragon play.
Final 3 Dragon Breaths: 7:14
Narrator: Male
Show Time Story Excerpt:
Rogelio resumed his search. He spotted an open area near the forest. Rogelio hurried over to the spot. There was plenty of room. Trees and benches framed the open space. The trees would be helpful to share their story, and the benches were just in the right place for their audience. Yes, this was a good spot to practice, and perform their play for their friends.
As Rogelio admired the spot he had found, Helen snuck up behind him, tapping his shoulder. Startled, Rogelio turned then smiled when he saw Helen.  "This looks like a great spot! Thanks for finding it!" Helen said.
"Thanks! I think it will work well. What do you think about storing our props over there?" Rogelio pointed to the forest.
"That will work great!" Brianna said as she ran up to her two friends, enveloping them in a big hug.
Meditation Description: Today, notice loving energy flowing through your body, from your feet up to your head.
Thank you for your help in getting the word out about Be Calm on Ahway Island, bedtime stories podcast, on social media.  Please follow us on Facebook, Twitter and YouTube.
Be Calm on Ahway Island offers original bedtime stories, like "Show Time," & meditations for kids. Gently nestled within are self-soothing techniques and positive learning moments. Creating the original bedtime stories and art for Be Calm on Ahway Island takes a lot of time and care. We are a listener-supported podcast, and we survive on your tips. If your child enjoys Be Calm on Ahway Island podcast, we would greatly appreciate you making a donation to help us keep going. You can make a one-time donation or a recurring micro donation once a month for less than the cost of a cup of coffee. Just click on the link below or go to our website, www.ahwayisland.com.
We hope your child enjoyed "Show Time," and loves all our stories and self-soothing meditations. If so, we need your positive reviews to help others find us too. You can leave a review on your favorite podcast app, or go to iTunes. It's fast and easy! Just tap this link: review here, then tap the "view in iTunes" button, tap "ratings and reviews," and leave your review.
Did you know we also have a YouTube channel? Check out the video page on our website AhwayIsland.com. We hope you enjoy and share our channel with others.
Thank you! We hope you relaxed with "Show Time."  Another soothing story about kids is "Super Fun." Relax and enjoy!