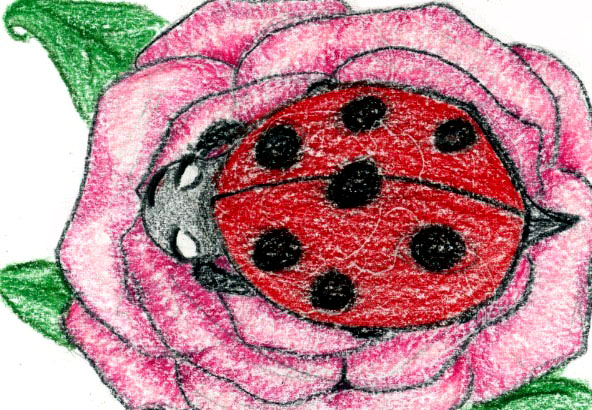 Podcast: Play in new window | Download
Subscribe: Apple Podcasts | Google Podcasts | Spotify | Pandora | iHeartRadio | Stitcher | TuneIn | Deezer | RSS | More
Letitia Ladybug searches for just the right new home!
Narrator: Male
Final 3 Dragon Breaths: 6:16
A Rosy Home Excerpt:
It was a bright sunny day.  All the flowers had been excited to open themselves up to the brightness of the day as the warmth of the sun's rays settled on their petals. Their sweet scents wafted on the breeze, drifting across the fields until they reached the tall stalk of grass on which a little ladybug was sleeping.

Leticia Ladybug had been fast asleep all morning, cozily curled up on the bright green stalk of grass. The stalks had been waving gently in the breeze, back and forth, back and forth. But the breeze strengthened as the morning wore on, and finally, a gust of wind sent the stalk suddenly dipping toward the earth below.

"Oops!" said Letitia in surprise, now fully awakened as she plummeted toward the earth. But a moment later, the gust had blown by and the stalk had righted itself, and was again standing straight and tall. Letitia yawned and stretched her wings. She took a deep Dragon Breath in and out, enjoying the fragrance of the flowers in the air. It was time to start her day!

And it was an important day! Today, Leticia was going to look for a new home.  She knew what she was looking for: someplace soft, sturdy, and warm. The best option would be a flower blossom, if she could find just the right one!
Today's Meditation: Gently sway like the graceful willow tree in today's meditation.
Looking for stories with positive learning moments for your little one?  You'll find them on Ahway Island®. Be Calm on Ahway Island® Podcast offers original bedtime stories, like "A Rosy Home," paired with meditations for kids. We help them drift off to sleep with a guided relaxation and a calming story. Gently nestled within each podcast episode are mindfulness techniques and positive learning moments.  To learn more about our mission at Ahway Island and our team, please visit our website.
Creating the original bedtime stories and art for Be Calm on Ahway Island takes a lot of time and care.
As a listener-supported podcast, we truly appreciate our members on Patreon. If you're not already a member, please consider joining! Writing, recording, editing, and publishing episodes and managing digital platforms is an enormous endeavor. Our Patreon program will help continue to grow Ahway Island and we hope you will support us! You can choose from 3 different Membership Levels, all of which include access to our Archives and an extra episode each week!
Are you and your children enjoying our stories and self-soothing meditations?
We hope your child loved "A Rosy Home!" We ask for your positive reviews to help others find us, too! Please leave a 5-star review on your favorite podcast app (such as Apple Podcasts). And, please follow, like, and/or share our social media profiles (Facebook, Twitter, Instagram ) to help us bring our original stories with positive messages to even more listeners!
In the press:
406 Families of Missoula lists us on their Favorite Podcasts for Kids roundup!
Thanks, Mommy Poppins, for saying our "soothing stories are like melatonin for the soul!" ♡
Digital Trends warns listeners that "you may not make it through an entire episode fully conscious." Yay!
Jooki recommends us as an outstanding podcast for preschoolers.
Thank you for listening with us today!