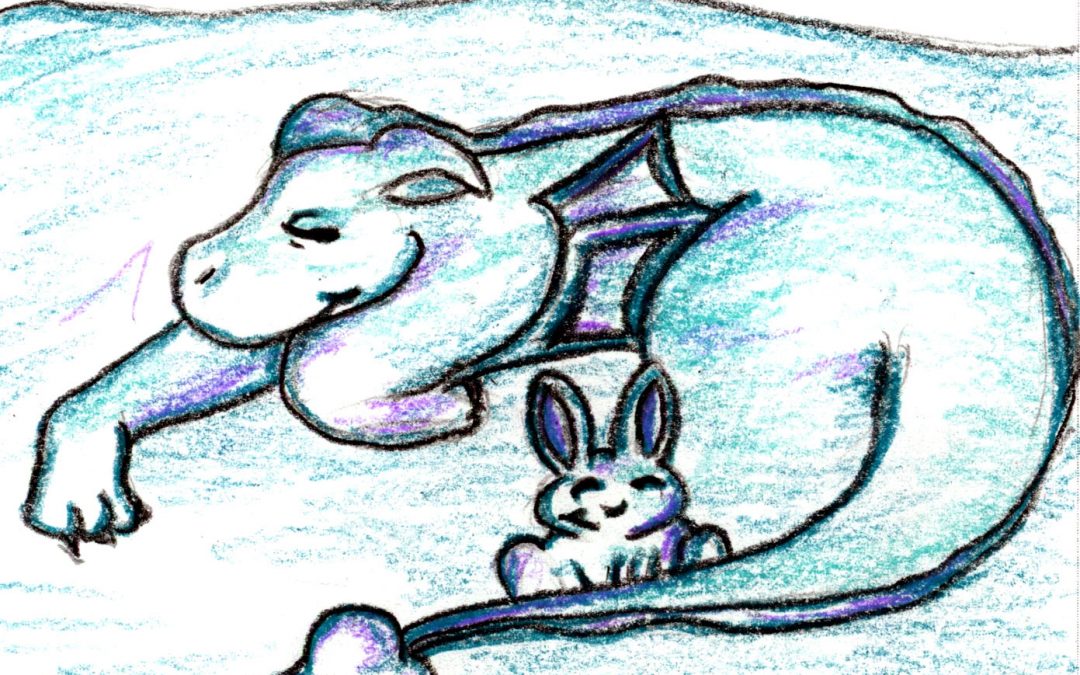 Podcast: Play in new window | Download
Subscribe: Apple Podcasts | Google Podcasts | Spotify | Pandora | iHeartRadio | Stitcher | TuneIn | Deezer | RSS | More
Dragon wakes up to a snowy forest. Everything is so peaceful you can hear the icicles drip. Dragon decides to go for a walk to explore.
Narrator: Female
Final 3 Dragon Breaths: 9:12
Snowy Memories Excerpt:
As the sun barely peeked over the horizon the sound of gentle snoring floated out of Dragon's cave. Slowly, the lovely light flowed across the land. Shadows of the bare trees fell across the snowy forest floor. The floor of the cozy cave warmed as sunshine spilled into Dragon's home and gradually rose up onto Dragon's mossy bed. The gentle snoring of the little dragon stopped as the sunlight reached Dragon's eyelids. Dragon blinked and squinted into the morning sun. With a smile, Dragon stretched and sat up. Dragon took a deep dragon breath, in and out, (deep breath) to get ready for a wonderful morning. As Dragon's feet touched the warm floor, Dragon sighed happily, feeling grateful. The morning sun had already warmed the floor, even though it was a cool winter morning. Dragon stood up and walked back to the cool spring pool in the cave, wanting a refreshing drink of water. Sunshine sparkled on the rippling surface as Dragon scooped up a bit to drink.

Feeling invigorated, Dragon looked towards the entrance to the cave and blinked. Outside everything was white. Dragon blinked again. It was so bright. Dragon smiled, and took a deep dragon breath, in and out, (deep breath) enjoying the peaceful scene. Everything always seemed to be so peaceful after a snowfall. Of course the world had been tucked in under a fluffy blanket of snow. As Dragon watched, sunlight sparkled off the piles of snowflakes. Then Dragon heard a drip, drip, drip, drop. Dragon heard it again, drip, drip, drip, drop. Curious, Dragon looked up, just as a drop of water fell with a splash, on Dragon's nose. Dragon shook the water off, feeling a little surprised. Then Dragon realized what had happened and stepped outside the cave for a better look. The snow above the entrance was melting in the warm sun. As the melted snow dripped towards the ground, the cold air caught the water drops, forming icicles. Dragon took a deep dragon breath, in and out, (deep breath). The flames tickled the little icicles warming them until they had completely changed into water once more.
Today's Meditation: Imagine floating on a cloud, and relax into the feeling of lightness.
Looking for stories that emphasize acceptance, understanding, and empathy? You'll find them on Ahway Island®. Be Calm on Ahway Island® Podcast offers original bedtime stories, like "Snowy Memories," paired with meditations for kids. We help them drift off to sleep with a guided relaxation and a calming story. Gently nestled within each podcast episode are mindfulness techniques and positive learning moments.  To learn more about our mission at Ahway Island and our team, please visit our website.
Creating the original bedtime stories and art for Be Calm on Ahway Island takes a lot of time and care.
As a listener-supported podcast, we truly appreciate our members on Patreon. If you're not already a member, please consider joining! Writing, recording, editing, and publishing episodes and managing digital platforms is an enormous endeavor. Our Patreon program will help continue to grow Ahway Island and we hope you will support us! You can choose from 3 different Membership Levels, all of which include access to our Archives and an extra episode each week!
Are you and your children enjoying our stories and self-soothing meditations?
We hope your child loved "Snowy Memories!" We ask for your positive reviews to help others find us, too! Please leave a 5-star review on your favorite podcast app (such as Apple Podcasts). And, please follow, like, and/or share our social media profiles (Facebook, Twitter, Instagram ) to help us bring our original stories with positive messages to even more listeners!
In the press:
406 Families of Missoula lists us on their Favorite Podcasts for Kids roundup!"
Thanks, Mommy Poppins, for saying our "soothing stories are like melatonin for the soul!" ♡
We're included in 8 Snow Day Activities That the Whole Family Will Enjoy!
Jooki recommends us as an outstanding podcast for preschoolers.
Thank you for listening with us today!