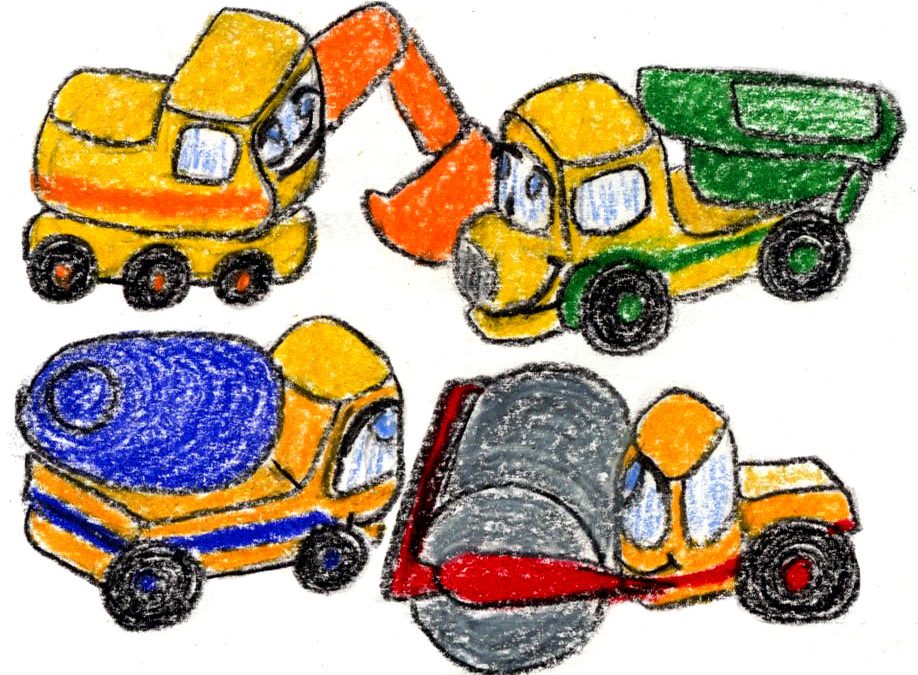 Podcast: Play in new window | Download
Subscribe: Apple Podcasts | Android | Google Podcasts | Stitcher | TuneIn | Spotify | RSS | More
Today's task for the construction crew is to build a train tunnel, but there are trees in the area. How will they get their job done while taking care of the trees?
Hello everyone!  We hope you enjoyed our new story "Something Nice" and this week. Now, welcome to Favorite Friday! Sometimes we like to listen to our favorites again. Please enjoy "The Train Tunnel" and we'll be back with a new story on Monday!
Final 3 Dragon Breaths: 6:24
Narrator: Female
The Train Tunnel Excerpt:
Then the Contractor walked out to the construction crew.  "OK everyone." He paused.  "We have an important job today.  We're responsible for making a tunnel for the new train.  It's going to go under the forest.  While we work, we need to take care and watch for the forest animals, it's their home.  Ellie, you will be in charge of digging a trench. Take your time.  We want to be safe.  Danny, I want you to haul away the dirt Ellie is digging.  Then you'll bring gravel back to the trench. Ellie will help spread the gravel out.  Ronald and Dizzy we'll call you when we're ready for you. Ronald, we'll need your help, packing the gravel in nice and tight for a solid foundation.  And Dizzy, you will pour the concrete when the forms are ready.  Let's make sure it stays nicely mixed.  You can both wait here until we're ready. This project may take a few days so we need to be patient.  Any questions?   This is going to be a fantastic tunnel! OK! Let's go!"

With that, the team drove out to their site and got right to work.  Ellie noticed that the trees lined both sides of the area, and knew she would need to be careful of their roots.  Ellie looked at the posts telling her where she should dig and then up at the trees.  It seemed like the posts were a safe distance from the trees. Still, Ellie wanted to be careful. The little excavator knew some of those oaks were over 100 years old, and she wanted to protect them.
Today's Meditation: Relax in the grass as you imagine sunlight warming you from head to toe.
Looking for a podcast to help settle your child in for nap time, bedtime or a break?  You'll find it on Ahway Island®. Be Calm on Ahway Island® Podcast offers original bedtime stories, like "The Train Tunnel" paired with meditations for kids. We help them drift off to sleep with a guided relaxation and a calming story. Gently nestled within each podcast episode are mindfulness techniques and positive learning moments.  To learn more about our mission at Ahway Island and our team please visit our website.
Creating the original bedtime stories and art for Be Calm on Ahway Island takes a lot of time and care.
Since we are a listener-supported podcast, we survive on your tips and purchases. If your child enjoys a good story with a positive message, we would greatly appreciate you purchasing a T-shirt from our shop or making a donation to help us keep your favorite self-soothing podcast going. You can make a one-time donation or a recurring micro donation once a month. Just click on the link below or go to our website, www.ahwayisland.com.
Overall, do you enjoy our stories and self-soothing meditations?
We hope your child loved "The Train Tunnel" If so, we need your positive reviews to help others find us too. Please leave a 5 star review on your favorite podcast app like Apple Podcasts, our Amazon Alexa Skill page, or our social media pages to share your enthusiasm for our original stories with a positive message!
Please follow us on  Facebook, Twitter, Instagram and YouTube.
Thank you for your help in spreading the word about our bedtime stories podcast, Be Calm on Ahway Island!
As a result of your support you'll find us ranking among the best in the Washington Post article The 25 Best Podcasts for Kids by Frannie Ucciferri under the Best for Bedtime heading. We're proud to be included in the Top 40 Growth Mindset Podcasts for Kids from Big Life Journal. Feedspot placed us at the #3 spot on their Top 15 Children's Bedtime Stories Podcasts of 2019 list, in the top 10 of their Top 20 Kids Podcasts of 2019 and 2020 list! ListenNotes, included us in their list of the 9 best podcasts for kids that entertain and educate and VeryWellMind listed us as one of the 20 Best Meditation Podcasts to Listen to in 2019 in an article by Sara Lindberg, M.Ed!
Our most recent accolades are:
As a recommended bedtime podcast for kids on Georgetown Hill's Early School website, from Parentology, as one of the 15 Most Popular Podcasts for Kids, Tweens, and Teens! We're also reaching listeners internationally! Sassy Mama in Hong Kong included us in their article on transitioning into the new year, while Haven magazine in Australia included us in their tips for getting through the school holidays.
Guess what! We're problem solvers!
Be Calm on Ahway Island podcast is part of the solution in this question and answer article by Torie Henderson on what to do when your kids are staying up late. We're also included in 8 Snow Day Activities That the Whole Family Will Enjoy.
Thanks again and keep spreading the word!
One more thing, did you know we also have a YouTube channel? Check out the video page on our website AhwayIsland.com. We hope you enjoy the calming videos and share our channel with others.
Did you find "The Train Tunnel" relaxing? Try "Mystery Jug" for another soothing story.
Thank you for all your support!