300. Magical Chair: a bedtime story on acceptance for kids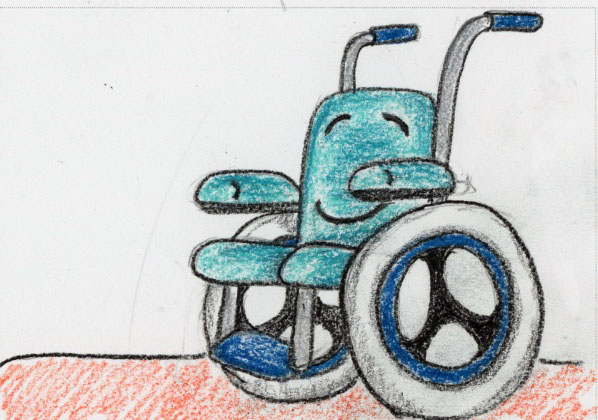 After moving to a new home, Winfield the wheelchair decides to help Brian find new friends. Will the magical chair find them at a colorful park?
Kids meet individuals of all ages, abilities, and backgrounds. Therefore, learning acceptance of others with disabilities is important to help children understand that differences are ok and valuable. Dim the lights, get your favorite blanket or sleep buddy and snuggle up for Be Calm on Ahway Island Podcast with a soothing story encouraging empathy.
Here's an excerpt from today's bedtime story on acceptance, Magical Chair:
The little wheelchair waited patiently while the boy buckled into the comfy seat. Winfield the wheelchair could tell Brian felt lonely in their new town. The family had just moved in and the little boy missed all his friends. Outside the sun shined brightly on the winding sidewalk. That gave Winfield an idea. Maybe Brian would meet some kids if they explored the neighborhood. Brian's dad must have understood what Winfield was thinking. He suggested, "Why don't we go outside for a walk?
Today's Meditation for kids: Feel your body fill with warmth and love as you send your loving energy to the world.
Does your child have classmates or neighbors with a disability? Do you live in a diverse neighborhood? Or, are you looking for a way to teach your kids about acceptance? Once again, Ahway Island is here for you!
Be Calm on Ahway Island Podcast offers original bedtime, nap time stories & meditations for kids illustrating empathy.
Empathy is a critical skill for the healthy social emotional development of young children. And so Ahway Island offers stories crafted to assist you in teaching your children understanding and acceptance of others with differences. Our stories feature wonderful characters with disabilities. We take great care to create an environment that encourages empathy. In addition to all this, we help your little ones drift off to sleep with a guided relaxation and a calming story. Just include us in your bedtime and nap time routines.
Creating the original bedtime stories and art for Be Calm on Ahway Island takes a lot of time and care.
Looking for a podcast to develop your child's sense of empathy and acceptance of people with disabilities? Gently nestled within each podcast episode are situations that model understanding of differences along with many other positive learning moments.  To learn more about our mission at Ahway Island and our team please visit our website.
Since we are a listener-supported podcast, we survive on your tips and purchases. If your child enjoys taking a break with our podcast, we would greatly appreciate you purchasing a T-shirt from our shop or making a donation to help us keep your favorite self-soothing podcast going. You can make a one-time donation or a recurring micro donation once a month. Just click on the link below or go to our website, www.ahwayisland.com.
Overall, do you enjoy our stories and self-soothing meditations?
We hope your child loves "Magical Chair." If so, we need your positive reviews to help others find us too. Please leave a 5 star review on your favorite podcast app like Apple Podcasts, our Amazon Alexa Skill page, or our social media pages to share your enthusiasm for our original stories encouraging acceptance of disabilities and empathy! So, if you have a minute – please leave your review here and follow your favorite short stories podcast for kids on Facebook, Instagram, Twitter, and YouTube.
Thank you for your help in spreading the word about our bedtime stories podcast, Be Calm on Ahway Island!
As a result of your support you can check us out in the Washington Post article The 25 Best Podcasts for Kids by Frannie Ucciferri under the Best for Bedtime heading. We're also proud to be included in the Top 40 Growth Mindset Podcasts for Kids from Big Life Journal. Discover our top 10 listing in Feedspot's top 20 Kids Podcasts of 2019 ! Our most recent accolade is from ListenNotes, as one of 9 best podcasts for kids that entertain and educate! Thanks again and keep spreading the word!
More news!
One more thing, did you know we also have a YouTube channel? Check out the video page on our website AhwayIsland.com. We hope you enjoy our stories on acceptance in the video format, as well. If you do, please share our channel with others.
Thank you! Check out this episode for another great bedtime story Mystery Jug: a calming bedtime and nap time story with a positive message