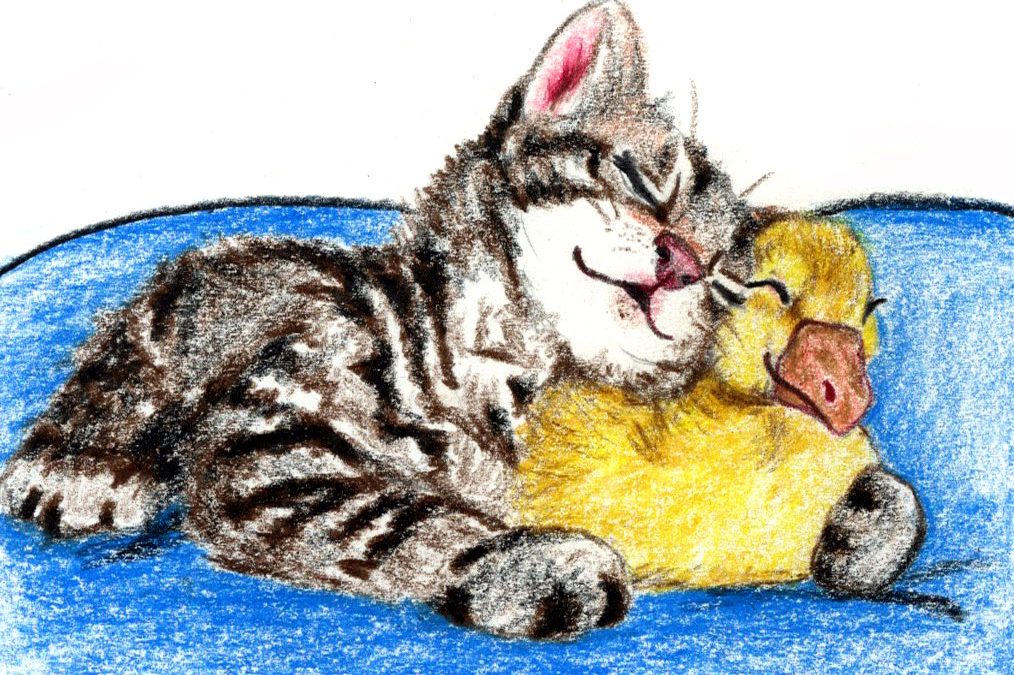 Podcast: Play in new window | Download
Subscribe: Apple Podcasts | Google Podcasts | Spotify | Pandora | iHeartRadio | Stitcher | TuneIn | Deezer | RSS | More
Dylan the duck wants a place to swim. His friend Zara is eager to help him. What will she do?
Narrator: Male
Final 3 Dragon Breaths: 7:47
Big Pond Excerpt:
Zara the Kitten napped in the sunlight with her friend Dylan the Duck. The cozy warmth of her sunny spot caused the little kitten to purr. As she relaxed, a cloud drifted across the sky, covering the sun for just a moment. With that interruption, Zara sat up and Dylan quacked. It was a good time to get up. The little kitten hopped off the couch and waited while Dylan waddled his way down to the floor. Zara felt thirsty, so she hurried to her water fountain for a drink. As she did, Dylan waddled over and started to step into Zara's water.

Zara meowed and moved quickly, so that her friend would not be able to wade in her dish. Dylan quacked at her. He needed to swim. The little kitten understood her friend needed water, but she did not want stinky feet in her drink. She thought a minute about how to help her friend. Then she smiled as an idea filled her head.
Today's Meditation: Feel your body fill with warmth and love as you send your loving energy to the world.
Looking for stories with positive learning moments for your little one? You'll find them on Ahway Island®. Be Calm on Ahway Island® Podcast offers original bedtime stories, like "Big Pond," paired with meditations for kids. We help them drift off to sleep with a guided relaxation and a calming story. Gently nestled within each podcast episode are mindfulness techniques and positive learning moments. To learn more about our mission at Ahway Island and our team, please visit our website.
Creating the original bedtime stories and art for Be Calm on Ahway Island takes a lot of time and care.
As a listener-supported podcast, we truly appreciate our members on Patreon. If you're not already a member, please consider joining! Writing, recording, editing, and publishing episodes and managing digital platforms is an enormous endeavor. Our Patreon program will help continue to grow Ahway Island and we hope you will support us! You can choose from 3 different Membership Levels, all of which include access to our Archives and an extra episode each week!
Are you and your children enjoying our stories and self-soothing meditations?
We hope your child loved "Big Pond!" We ask for your positive reviews to help others find us, too! Please leave a 5-star review on your favorite podcast app (such as Apple Podcasts). And, please follow, like, and/or share our social media profiles (Facebook, Twitter, Instagram ) to help us bring our original stories with positive messages to even more listeners!
In the press:
Thank you to Anne Bensfield and Pamela Rogers of School Library Journal for listing us as one of "8 Podcasts To Encourage Mindfulness!"
We're honored that the website of Aitkin County, Minnesota lists us as a resource for boosting mental health in kids during COVID-19. The website of Southwest Virginia Community Health Systems also includes us on their list of Technology to Boost Mental Health.
406 Families of Missoula lists us on their Favorite Podcasts for Kids roundup!
Jooki recommends us as an outstanding podcast for preschoolers.
We're reaching listeners internationally! Sassy Mama Hong Kong included us in their article on transitioning into the new year, Sassy Mama Singapore recommends us for limiting screen-time while sheltering at home, and Haven Magazine Australia included us in their tips for getting through the school holidays.
Thanks, Mommy Poppins, for saying our "soothing stories are like melatonin for the soul!" ♡
Digital Trends warns listeners that "you may not make it through an entire episode fully conscious." Yay!