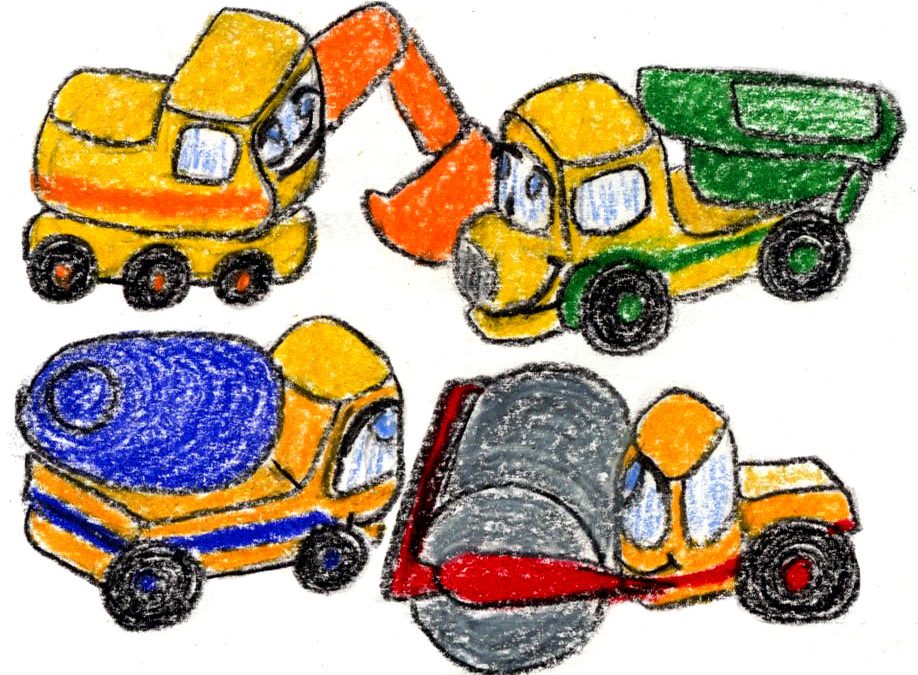 Podcast: Play in new window | Download
Subscribe: Apple Podcasts | Google Podcasts | Spotify | Pandora | iHeartRadio | Stitcher | TuneIn | Deezer | RSS | More
The Construction Crew puts the finishing touches on the train tunnel. While she works Dizzy the concrete mixer rambles on and on. Will she notice how the others are feeling?
Hello everyone!  We hope you enjoyed our new story this week. Now, welcome to Favorite Friday! Sometimes we like to listen to our favorites again. Please enjoy "All Done!" and we'll be back with a new story on Monday!
Narrator: Male
Final 3 Dragon Breaths: 6:54
All Done! Excerpt:
Ellie the excavator woke, ready to finish the tunnel project. She carefully opened her eyes,expecting sunshine to spill into her cozy garage. Instead, Ellie heard a voice drifting through the walls. It sounded like Dizzy the concrete mixer. The talking had woken her up just ahead of the sunlight. The little excavator rumbled out of her garage, curious to see what was happening. Dizzy was busy talking to Danny, the dump truck. Ellie could see she was really excited about something. Dizzy was busy explaining to Danny why it was important that she kept the concrete spinning. She rumbled around the yard following Danny wherever he went. "I like to keep the concrete moving at a nice steady pace…" the two trucks rumbled away. Ellie decided she should probably check on them later, Danny looked a little annoyed. Ronald the roller rolled over to the little excavator.

"Where are they going?" he asked as he watched Dizzy following the little dump truck.

"I think Dizzy is explaining concrete to Danny." Ellie answered.

"Oh no. Not again." Ronald said. "She really gets stuck, around and around she goes, explaining the same thing over and over."

"Oh dear. Danny isn't nearly as patient as you Ronald. This may be a problem."
Today's Meditation: Imagine floating in a tranquil pool, safe and relaxed, as the water rocks you gently.
Looking for a podcast to help settle your child in for nap time, bedtime or a break? You'll find it on Ahway Island®. Be Calm on Ahway Island® Podcast offers original bedtime stories, like "All Done!" paired with meditations for kids. We help them drift off to sleep with a guided relaxation and a calming story. Gently nestled within each podcast episode are mindfulness techniques and positive learning moments.  To learn more about our mission at Ahway Island and our team, please visit our website.
Creating the original bedtime stories and art for Be Calm on Ahway Island takes a lot of time and care.
As a listener-supported podcast, we truly appreciate our members on Patreon. If you're not already a member, please consider joining! Writing, recording, editing, and publishing episodes and managing digital platforms is an enormous endeavor. Our Patreon program will help continue to grow Ahway Island and we hope you will support us! You can choose from 3 different Membership Levels, all of which include access to our Archives and an extra episode each week!
Are you and your children enjoying our stories and self-soothing meditations?
We hope your child loved "All Done!" We ask for your positive reviews to help others find us, too! Please leave a 5-star review on your favorite podcast app (such as Apple Podcasts). And, please follow, like, and/or share our social media profiles (Facebook, Twitter, Instagram ) to help us bring our original stories with positive messages to even more listeners!
In the press:
We're honored that the website of Southwest Virginia Community Health Systems includes us on their list of Technology to Boost Mental Health.
406 Families of Missoula lists us on their Favorite Podcasts for Kids roundup!
Thanks, Mommy Poppins, for saying our "soothing stories are like melatonin for the soul!" ♡
Jooki recommends us as an outstanding podcast for preschoolers.
We're included in 8 Snow Day Activities That the Whole Family Will Enjoy!
Thank you for your help in spreading the word about our bedtime stories podcast, Be Calm on Ahway Island!