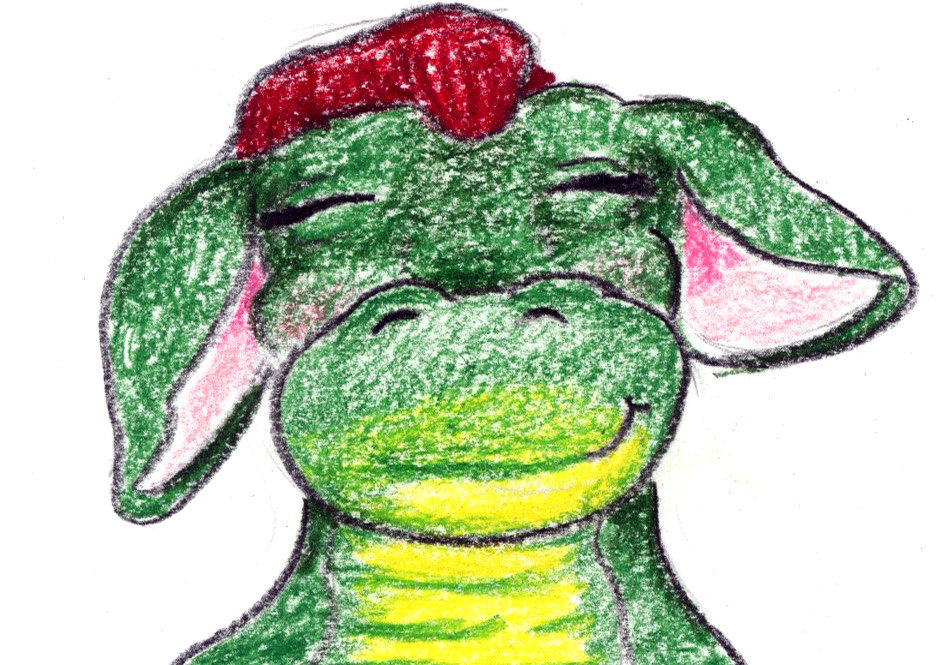 Podcast: Play in new window | Download
Subscribe: Apple Podcasts | Google Podcasts | Spotify | Pandora | iHeartRadio | Stitcher | TuneIn | Deezer | RSS | More
Dragon enjoyed the popcorn Trenton the Tractor shared, and returns to the farm for some more.
Narrator: Male
Final 3 Dragon Breaths: 7:54
A Tasty Treat Excerpt:
A cool breeze danced around the colorful trees, swirling red, orange, and yellow leaves off their branches. They drifted along, spinning in circles, this way and that, before they finally reached the ground. The breeze continued on, through the enchanted forest, and into Dragon's cozy cave.

Dragon rested, nose out from under the colorful quilt. The cool breeze wafted over and tickled it. Dragon felt the cool air and shook the blanket right off. Awake now, Dragon hopped out of bed. There was so much fun to be had, and it was past time to get started.

Dragon picked up the empty corn husk and smiled. Trenton the tractor had offered Dragon more popcorn and so Dragon was going to get some more to share. Leaves flew up into the air as Dragon skipped down the path. Dragon knew the kids would love to watch the popcorn popping, and the animals would love eating the popcorn. Picking up the pace, Dragon hurried down the path to the farm. Then Dragon smiled with an excellent idea. Flying would be faster, so, with a hop, skip and a jump, Dragon opened wings wide and flew up into the sky. As Dragon rose through the trees, the colors of the forest caught Dragon's eye. Just below the clouds Dragon could see the entire enchanted forest. A sea of red, orange and yellow leaves danced in the fall breeze below. It really was enchanting. Dragon felt grateful for the choice to fly this morning.
Today's Meditation: Feel your body fill with warmth and love as you send your loving energy to the world.
Looking for stories that emphasize acceptance, understanding, and empathy? You'll find them on Ahway Island®. Be Calm on Ahway Island® Podcast offers original bedtime stories, like "A Tasty Treat," paired with meditations for kids. We help them drift off to sleep with a guided relaxation and a calming story. Gently nestled within each podcast episode are mindfulness techniques and positive learning moments.  To learn more about our mission at Ahway Island and our team, please visit our website.
Creating the original bedtime stories and art for Be Calm on Ahway Island takes a lot of time and care.
As a listener-supported podcast, we truly appreciate our members on Patreon. If you're not already a member, please consider joining! Writing, recording, editing, and publishing episodes and managing digital platforms is an enormous endeavor. Our Patreon program will help continue to grow Ahway Island and we hope you will support us! You can choose from 3 different Membership Levels, all of which include access to our Archives and an extra episode each week!
Are you and your children enjoying our stories and self-soothing meditations?
We hope your child loved "A Tasty Treat!" We ask for your positive reviews to help others find us, too! Please leave a 5-star review on your favorite podcast app (such as Apple Podcasts). And, please follow, like, and/or share our social media profiles (Facebook, Twitter, Instagram ) to help us bring our original stories with positive messages to even more listeners!
In the press:
Jooki recommends us as an outstanding podcast for preschoolers.
We're included in 8 Snow Day Activities That the Whole Family Will Enjoy!
SheKnows recommends us as as a podcast you and your kids will love!
We're honored that the website of Southwest Virginia Community Health Systems includes us on their list of Technology to Boost Mental Health.
Thank you for listening with us today!