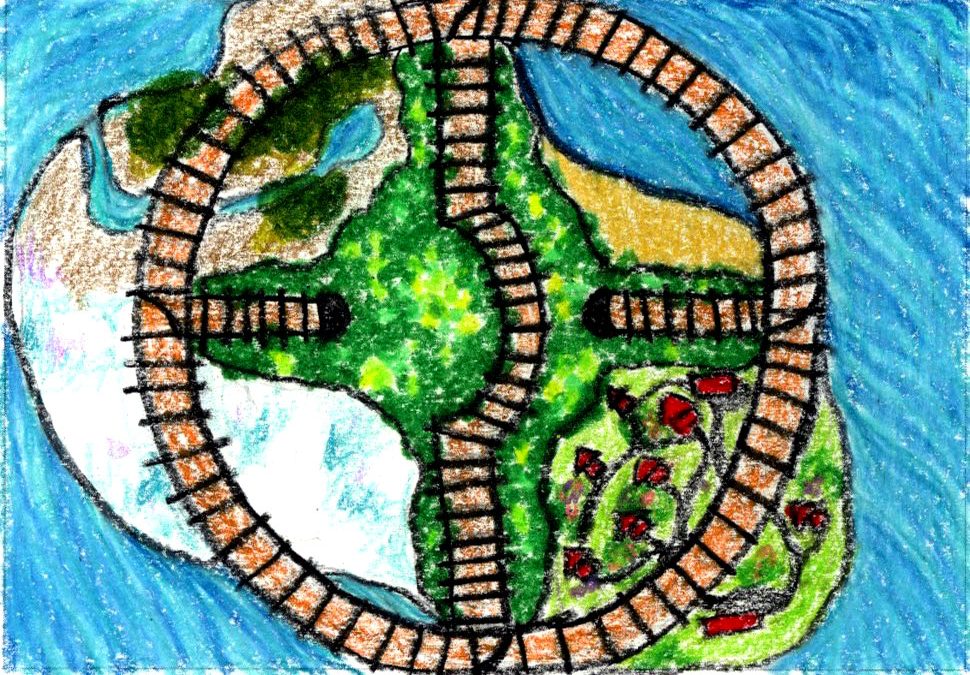 Podcast: Play in new window | Download
Subscribe: Apple Podcasts | Google Podcasts | Spotify | Pandora | iHeartRadio | Stitcher | TuneIn | Deezer | RSS | More
Huan the panda needs some help climbing a tall bamboo, but he wants to do it himself. His friend Daiyu tries to help him understand that asking for help is ok.
Hello everyone!  We hope you enjoyed our new story this week. Now, welcome to Favorite Friday! Sometimes we like to listen to our favorites again. Please enjoy "Plucky Pandas" and we'll be back with a new story on Monday!
Narrator: Male
Final 3 Dragon Breaths: 7:36
Plucky Pandas Excerpt:
Soft grey skies covered the bamboo forest. Huan the Panda opened his eyes. The little panda smiled as he looked up through the towering plants. Their bright green leaves stood out against the dull sky. Huan stretched and watched for his friend Daiyu. The little panda thought he saw something moving towards him in the distance. Huan watched carefully. Was it Daiyu? If it was, she was taking her sweet time. Huan concentrated, trying to figure it out, when suddenly, "Good morning Huan!" The little panda bear jumped up feeling startled, and turned around.

"Oh! Good morning Daiyu. You surprised me." Huan said.

"What were you watching so closely?" Daiyu asked peering off in the same direction Huan had been looking.

"I thought you were coming from that way. I guess it's just the breeze." Huan said, shrugging his shoulders.

"Must be." Daiyu said. "I don't see anything now." A rumbling noise distracted the little panda and she looked back at Huan. "Are you hungry?" she asked.

"My tummy seems to think so." Huan said rubbing his belly. "Time for breakfast." Huan looked up at the bamboo and started to climb. The bamboo was slippery and Huan slowly slid back down to the ground. The little panda couldn't reach the leaves.
Today's Meditation: Be calm during this progressive relaxation from your head to your toes.
Looking for a way to help your child learn emotional regulation and how to self soothe? You'll find them on Ahway Island®. Be Calm on Ahway Island® Podcast offers original bedtime stories, like "Plucky Pandas," paired with meditations for kids. We help them drift off to sleep with a guided relaxation and a calming story. Gently nestled within each podcast episode are mindfulness techniques and positive learning moments.  To learn more about our mission at Ahway Island and our team, please visit our website.
Creating the original bedtime stories and art for Be Calm on Ahway Island takes a lot of time and care.
As a listener-supported podcast, we truly appreciate our members on Patreon. If you're not already a member, please consider joining! Writing, recording, editing, and publishing episodes and managing digital platforms is an enormous endeavor. Our Patreon program will help continue to grow Ahway Island and we hope you will support us! You can choose from 3 different Membership Levels, all of which include access to our Archives and an extra episode each week!
Are you and your children enjoying our stories and self-soothing meditations?
We hope your child loved "Plucky Pandas!" We ask for your positive reviews to help others find us, too! Please leave a 5-star review on your favorite podcast app (such as Apple Podcasts). And, please follow, like, and/or share our social media profiles (Facebook, Twitter, Instagram ) to help us bring our original stories with positive messages to even more listeners!
In the press:
Thanks, Mommy Poppins, for saying our "soothing stories are like melatonin for the soul!" ♡
We're honored that the website of Southwest Virginia Community Health Systems includes us on their list of Technology to Boost Mental Health.
Thank you to Anne Bensfield and Pamela Rogers of School Library Journal for listing us as one of "8 Podcasts To Encourage Mindfulness!"
SheKnows recommends us as as a podcast you and your kids will love!
We're included in 8 Snow Day Activities That the Whole Family Will Enjoy!
Thank you for your help in spreading the word about our bedtime stories podcast, Be Calm on Ahway Island!