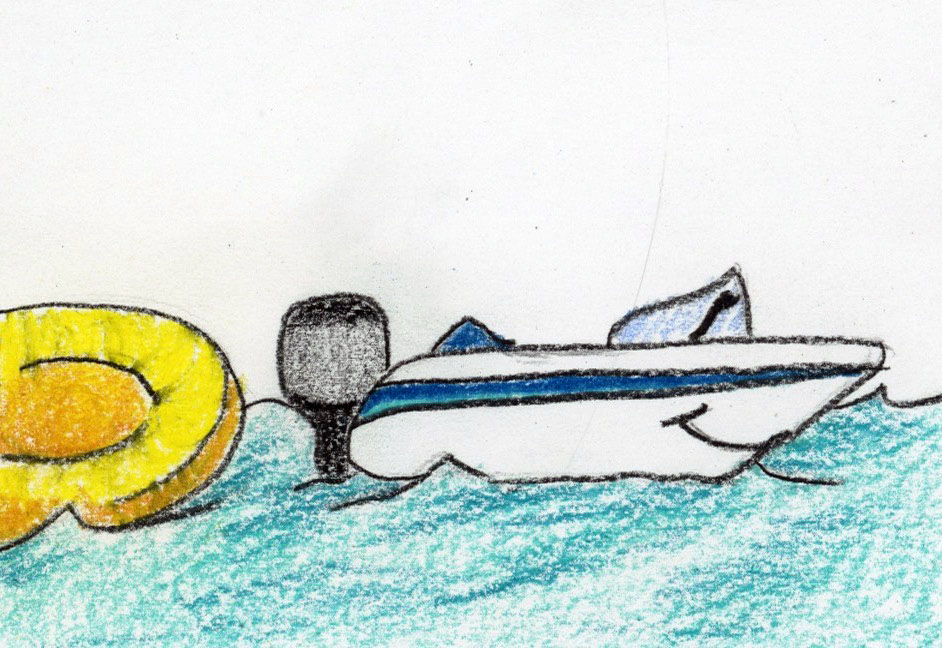 Podcast: Play in new window | Download
Subscribe: Apple Podcasts | Google Podcasts | Spotify | Pandora | iHeartRadio | Stitcher | TuneIn | Deezer | RSS | More
Manny the motor boat gently tows people behind on a tube. Everyone is excited for their boating adventures!
Hello everyone!  We hope you enjoyed our new story this week. Now, welcome to Favorite Friday! Sometimes we like to listen to our favorites again. Please enjoy "Boating Adventures" and we'll be back with a new story on Monday!
Narrator: Male
Forest Friends Excerpt:
Manny gently tugged the tube out into the lake, noticing how well the person held on. When the little motorboat was sure the person was comfortable, he went a little bit faster. There was a shriek of delight as Manny's speed increased a little bit more. All the people in the boat turned to watch their friend hanging onto the tube. Everything seemed pretty safe so the little motorboat went a tiny bit faster, …then faster, …and even faster still. Now everyone in the boat was cheering, encouraging their friend to hang on! Manny smiled as he heard the laughter and supportive yells. Everyone was having a great time. Ahead Manny spotted some waves made by a larger boat. With a mischievous grin, the little motor boat decided to cross the waves. He went up and down rolling over the top of the swells. The people in the boat laughed as they gently rolled, watching the person on the tube. The tube had bounced up and landed on the lake, and that person laughed and laughed. Manny smiled, glad everyone was having such fun, and slowed down a bit. He knew it was harder to hold on when you are laughing so hard. In fact, it sounded like the people wanted to switch tube riders. Usually when the little motorboat took the people out they took turns on the tube, so he was prepared for a change.
Today's Meditation: Imagine floating on a cloud, and relax into the feeling of lightness.
Looking for stories with positive learning moments for your little one?  You'll find it on Ahway Island®. Be Calm on Ahway Island® Podcast offers original bedtime stories, like "Forest Friends" paired with meditations for kids. We help them drift off to sleep with a guided relaxation and a calming story. Gently nestled within each podcast episode are mindfulness techniques and positive learning moments.  To learn more about our mission at Ahway Island and our team please visit our website.
Creating the original bedtime stories and art for Be Calm on Ahway Island takes a lot of time and care.
Since we are a listener-supported podcast, we survive on your tips and purchases. If your child enjoys a good story with a positive message, we would greatly appreciate you purchasing a T-shirt from our shop or becoming a member on Patreon to help us keep your favorite self-soothing podcast going. Thank you so very much!
Do you enjoy our stories and self-soothing meditations?
We hope your child loved "Boating Adventures!" If so, we ask for your positive reviews to help others find us, too. Please leave a 5 star review on your favorite podcast app, such as Apple Podcasts, on our Amazon Alexa Skill page, or our social media pages (at Facebook, Twitter, and Instagram) to share your enthusiasm for our original stories with a positive message! Thank you for your help in spreading the word about our bedtime stories podcast, Be Calm on Ahway Island!
As a result of your support you'll find us ranking among the best in the Washington Post article The 25 Best Podcasts for Kids by Frannie Ucciferri under the Best for Bedtime heading. We're proud to be included in the Top 40 Growth Mindset Podcasts for Kids from Big Life Journal. Feedspot placed us at the #3 spot on their Top 15 Children's Bedtime Stories Podcasts of 2019 list, in the top 10 of their Top 20 Kids Podcasts of 2019 and 2020 list! ListenNotes, included us in their list of the 9 best podcasts for kids that entertain and educate and VeryWellMind listed us as one of the 20 Best Meditation Podcasts to Listen to in 2019 in an article by Sara Lindberg, M.Ed!