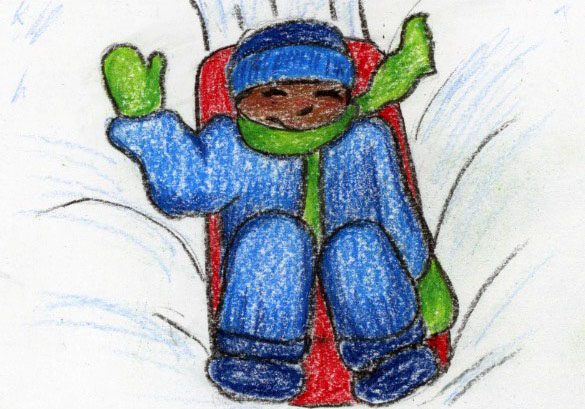 Podcast: Play in new window | Download
Subscribe: Apple Podcasts | Google Podcasts | Spotify | Pandora | iHeartRadio | Stitcher | TuneIn | Deezer | RSS | More
Owen enjoys the first snowfall of the season by going sledding with a new friend.
Narrator: Female
Final 3 Dragon Breaths: 9:15
First Snowfall Excerpt:
According to the calendar, the first official day of winter wouldn't come for another month, but to Owen, it seemed that winter had definitely arrived in his neighborhood! Overnight, the first snow of the season had fallen all across Ahway Island, covering the neighborhoods, forests, and beaches with a thick blanket of snow.

Fluffy white flakes piled on top of each other on the window sill as Owen gazed outside. He watched, entranced, as more and more flakes slowly floated down to the ground, covering the snow that had fallen overnight with ever-thickening sheets across the front lawn. Owen smiled. He had always loved falling snow, and the first snow of the year was always a particularly joyous event. He knew that when he went outside, he would experience that special, quiet hush unique to a world covered with freshly fallen snow.

Owen watched for a few more minutes, just quietly enjoying the sight. The peaceful beauty of a snowy world was one of his favorite things and he just wanted to watch silently for a little while. But after a couple minutes, a thought occurred to Owen. The snow was probably thick enough for sledding!

Gazing through the window, Owen looked down the block to see the hill at the end of his street. All the children in the neighborhood called the hill "the sledding hill," no matter what time of the year it was. Today, the hill stood tall and white and ready for some the season's first sledding tracks!
Today's Meditation:
Imagine floating on a cloud, and relax into the feeling of lightness.
Looking for a podcast to help settle your child in for nap time, bedtime or a break?  You'll find it on Ahway Island®. Be Calm on Ahway Island® Podcast offers original bedtime stories, like "First Snowfall," paired with meditations for kids. We help them drift off to sleep with a guided relaxation and a calming story. Gently nestled within each podcast episode are mindfulness techniques and positive learning moments.  To learn more about our mission at Ahway Island and our team, please visit our website.
Creating the original bedtime stories and art for Be Calm on Ahway Island takes a lot of time and care.
As a listener-supported podcast, we truly appreciate our members on Patreon. If you're not already a member, please consider joining! Writing, recording, editing, and publishing episodes and managing digital platforms is an enormous endeavor. Our Patreon program will help continue to grow Ahway Island and we hope you will support us! You can choose from 3 different Membership Levels, all of which include access to our Archives and an extra episode each week!
Are you and your children enjoying our stories and self-soothing meditations?
We hope your child loved "First Snowfall!" We ask for your positive reviews to help others find us, too! Please leave a 5-star review on your favorite podcast app (such as Apple Podcasts). And, please follow, like, and/or share our social media profiles (Facebook, Twitter, Instagram) to help us bring our original stories with positive messages to even more listeners!
In the press:
We're honored that the website of Aitkin County, Minnesota list us as a resource for boosting mental health in kids during COVID-19.
406 Families of Missoula lists us on their Favorite Podcasts for Kids roundup!
Jooki recommends us as an outstanding podcast for preschoolers.
We're reaching listeners internationally! Sassy Mama Hong Kong included us in their article on transitioning into the new year, Sassy Mama Singapore recommends us for limiting screen-time while sheltering at home, and Haven Magazine Australia included us in their tips for getting through the school holidays.
Thanks, Mommy Poppins, for saying our "soothing stories are like melatonin for the soul!" ♡
Digital Trends warns listeners that "you may not make it through an entire episode fully conscious." Yay!
Thank you for listening to Be Calm on Ahway Island today!