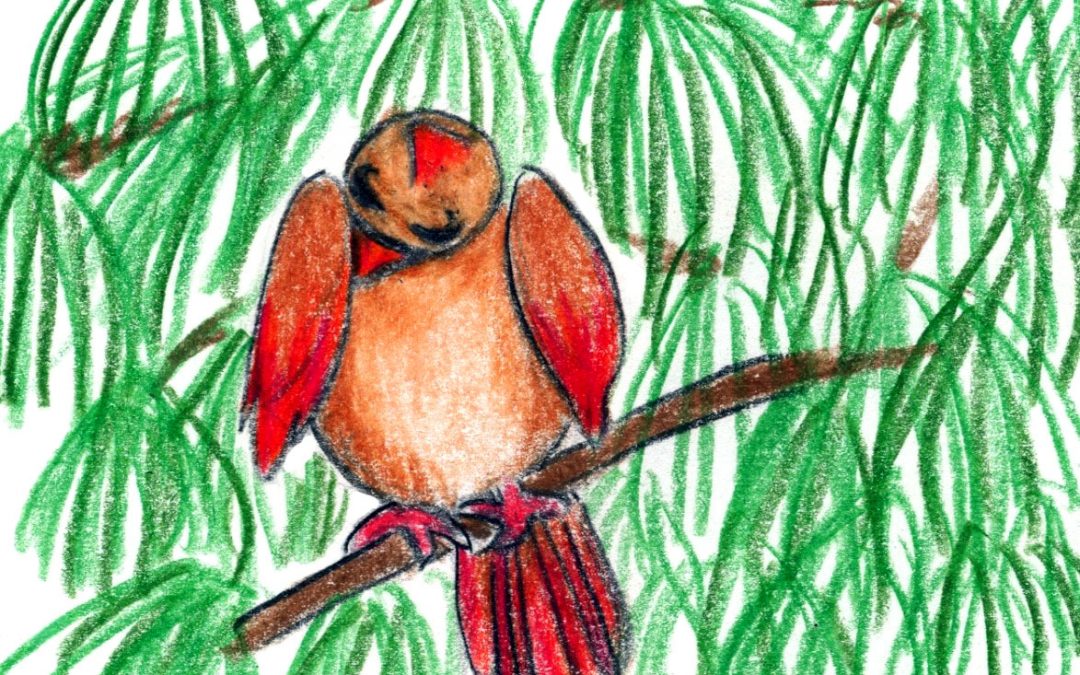 Podcast: Play in new window | Download
Subscribe: Apple Podcasts | Google Podcasts | Spotify | Pandora | iHeartRadio | Stitcher | TuneIn | Deezer | RSS | More
The summer weather is hot and dry, and the neighborhood birds are thirsty!
Narrator: Male
Final 3 Dragon Breaths: 6:52
Bird Bath Excerpt:
The ground was dry – very, very dry. It hadn't rained in several weeks; actually Carrie the Cardinal couldn't exactly remember the last time it had rained. Grass had changed from green to brown. The temperatures were very high, and the whole earth felt parched.

Nevertheless, the little bird admitted to herself, the world was still very beautiful. Trees were green, including the beautiful maple tree in which she had built her nest. Flowers bloomed. The sun shone dazzlingly bright. The sky was deep blue, with a few scattered clouds, bright and white, high in the sky. Whether she was sitting in a tree or flying in the air, Carrie always enjoyed cloud-watching, imaging that she saw pictures formed by the shape of the clouds. But these clouds were very high and far away, and Carrie knew that no rain would come from those clouds for a long time.

Carrie was thirsty and was feeling a tired from the heat. She knew if she flew a long distance, she could find some water – she knew there was a big pond in a nearby neighborhood. But it would take her a while to get there, and she just didn't feel like she had enough energy. She needed water for energy – but she couldn't get water without having energy first! What was she going to do?
Today's Meditation: Feel your body fill with warmth and love as you send your loving energy to the world.
Looking for stories with positive learning moments for your little one?  You'll find it on Ahway Island®. Be Calm on Ahway Island® Podcast offers original bedtime stories, like "Bird Bath" paired with meditations for kids. We help them drift off to sleep with a guided relaxation and a calming story. Gently nestled within each podcast episode are mindfulness techniques and positive learning moments.  To learn more about our mission at Ahway Island and our team, please visit our website.
Creating the original bedtime stories and art for Be Calm on Ahway Island takes a lot of time and care.
Since we are a listener-supported podcast, we survive on your tips and purchases. If your child enjoys a good story with a positive message, we would greatly appreciate you purchasing a T-shirt from our shop or becoming a member on Patreon to help us keep your favorite self-soothing podcast going. Thank you!
Do you enjoy our stories and self-soothing meditations?
We hope your child loved "Bird Bath!" If so, we need your positive reviews to help others find us too. Please leave a 5 star review on your favorite podcast app (like Apple Podcasts) or on our Amazon Alexa Skill page. And, please like, follow, and/or share our social media profiles at Facebook, Twitter, or Instagram. Thank you for your help in spreading the word!