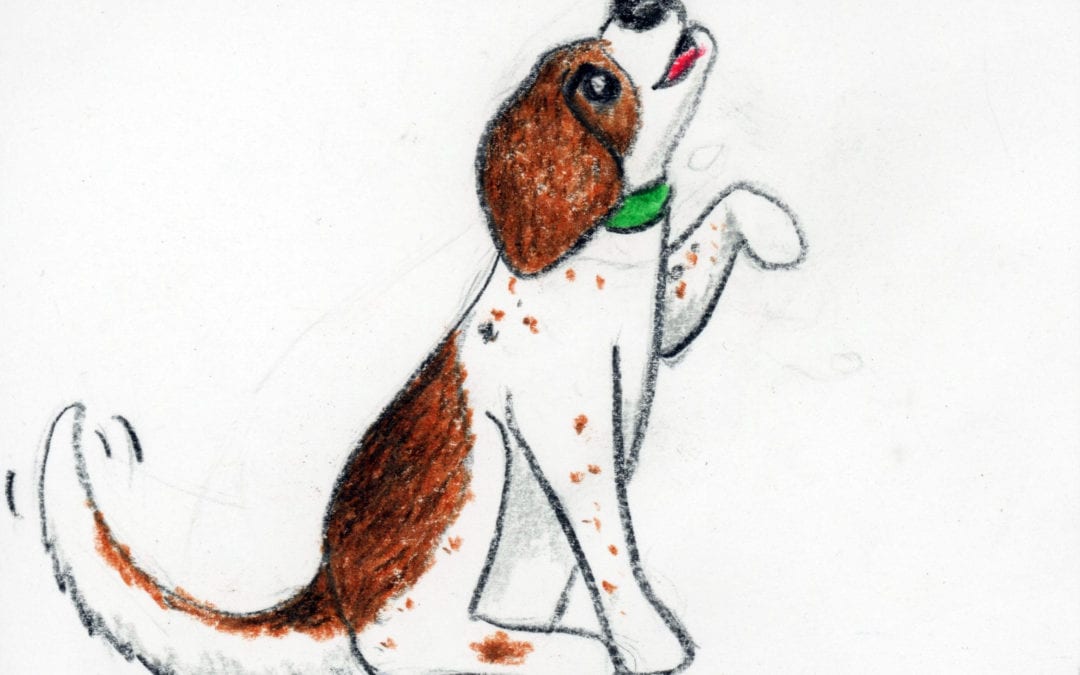 Podcast: Play in new window | Download
Subscribe: Apple Podcasts | Google Podcasts | Spotify | Pandora | iHeartRadio | Stitcher | TuneIn | Deezer | RSS | More
Wilbur goes on a walk with Sam. The walk takes them in a new direction and they meet some new neighbors!
Narrator: Female
Final 3 Dragon Breaths: 8:20
Found Friends Excerpt:
Wilbur the Dog was lying in a bright warm sunbeam when he heard a faint jingle. He sat up and lifted his years. He heard the jingle again. Wilbur jumped up onto all four paws and ran over toSam. Sam had adopted Wilbur when he was a small pup. Wilbur ran in excited circles around Sam. It was time for a walk! They were going on a walk!

Wilbur was so excited Sam had a hard time getting the blue leash attached to Wilbur's collar. Finally, the leash clicked and Wilbur stood perfectly still at the door, waiting for it to open. As soon as the door moved, Wilbur put his front paws on it and pushed it open the rest of the way. He bolted out the door, pulling Sam behind him.

"Slow down, Wilbur," Sam said.

The little dog scrambled to turn the corner. Wilbur wanted to make sure they really were taking the right path for the LONG walk. They were! Wilbur wagged his tail in excitement.

As they walked down the street, Wilbur's nose tickled with all the different smells outside! The first smell he identified was a chipmunk. Definitely a chipmunk. The next smell, Wilbur paused to sniff a bit longer.Was the scent a squirrel or a mouse?
Today's Meditation: Imagine floating on a cloud, and relax into the feeling of lightness.
Looking for a way to help your child learn emotional regulation and how to self soothe? You'll find them on Ahway Island®. Be Calm on Ahway Island® Podcast offers original bedtime stories, like "Found Friends," paired with meditations for kids. We help them drift off to sleep with a guided relaxation and a calming story. Gently nestled within each podcast episode are mindfulness techniques and positive learning moments.  To learn more about our mission at Ahway Island and our team, please visit our website.
Creating the original bedtime stories and art for Be Calm on Ahway Island takes a lot of time and care.
As a listener-supported podcast, we truly appreciate our members on Patreon. If you're not already a member, please consider joining! Writing, recording, editing, and publishing episodes and managing digital platforms is an enormous endeavor. Our Patreon program will help continue to grow Ahway Island and we hope you will support us! You can choose from 3 different Membership Levels, all of which include access to our Archives and an extra episode each week!
Are you and your children enjoying our stories and self-soothing meditations?
We hope your child loved "A Birthday Search!" We ask for your positive reviews to help others find us, too! Please leave a 5-star review on your favorite podcast app (such as Apple Podcasts). And, please follow, like, and/or share our social media profiles (Facebook, Twitter, Instagram ) to help us bring our original stories with positive messages to even more listeners!
In the press:
We're honored that the website of Southwest Virginia Community Health Systems includes us on their list of Technology to Boost Mental Health.
Digital Trends warns listeners that "you may not make it through an entire episode fully conscious." Yay!
We're included in 8 Snow Day Activities That the Whole Family Will Enjoy!
SheKnows recommends us as as a podcast you and your kids will love!
Thank you for listening with us today!