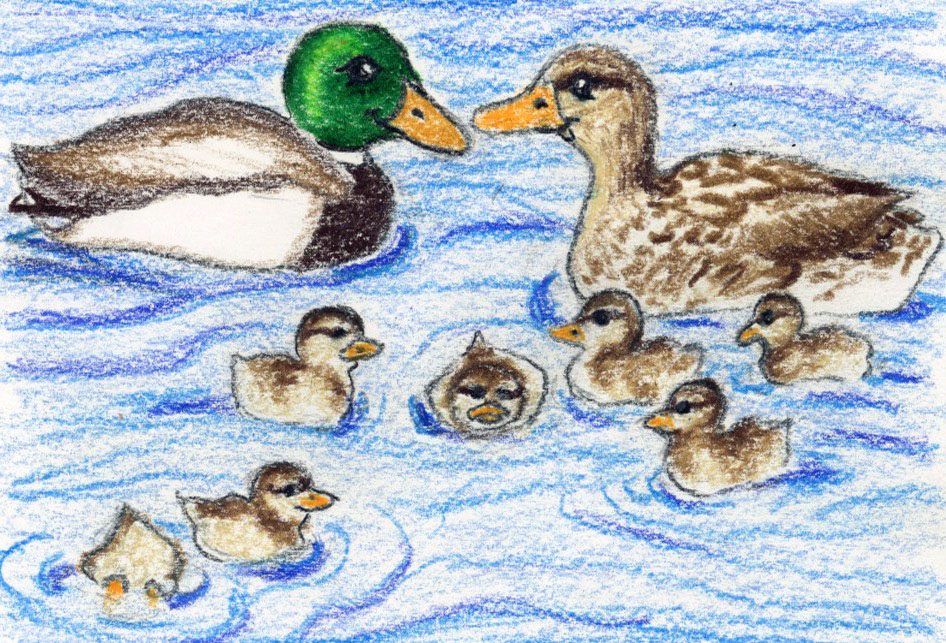 Podcast: Play in new window | Download
Subscribe: Apple Podcasts | Android | Google Podcasts | Stitcher | TuneIn | Spotify
A family of mallard ducks wants to go to a nearby pond. The baby duck parade travels under, over, around, and through various obstacles on their way.
Final 3 Dragon Breaths: 8:03
Narrator: Female
Baby Duck Parade Story Excerpt:
The little ducks walked through the grass, the warm sun shined down on their backs.  The ducklings were beginning to feel a little hot.  Up ahead there was something different.  There was a dark opening.  The ducks could feel the coolness as they waddled closer.  It was a bridge, and the little ducks were heading under it.  The ducks and ducklings took a deep breath in and out (deep breath) as they enjoyed the chill of the air in the short tunnel.  Before long, they had passed through the tunnel.  Papa counted 1,2,3,4,5,6, and 7.  All the little ducks had made it under the bridge.  Now they were back in the glistening sun.
Today's Meditation: Today, enjoy the feeling of your body relaxing into the warm sand on a sunny beach.
We appreciate your help getting the word out about Ahway Island bedtime stories podcast on social media.  Please follow us on Facebook, Twitter and YouTube, and share your love of our podcast with others.
Be Calm on Ahway Island offers original bedtime stories, like Baby Duck Parade, & meditations for kids. Gently nestled within are self-soothing techniques and positive learning moments.  Creating original bedtime stories and art is a lot of work. We are a listener-supported podcast, and we survive on your tips. If your child enjoys Be Calm on Ahway Island podcast, we would greatly appreciate you making a donation to help us keep going. You can make a one-time donation or a recurring micro donation once a month. Just click on the link below or go to our website, www.ahwayisland.com.
We hope your child loves our stories and self-soothing meditations. If so, we need your positive reviews to help others find us too. You can leave a review on your favorite podcast app, or go to iTunes. It's fast and easy! Just tap this link: review here, then tap the "view in iTunes" button, tap "ratings and reviews," and leave your review.
Did you know we now have a YouTube channel? Check out the video page on our website AhwayIsland.com. We hope you enjoy it and share our channel with others.
Thank you! If "Baby Duck Parade" helped you relax, try our soothing story "Lucky Ladybug"!