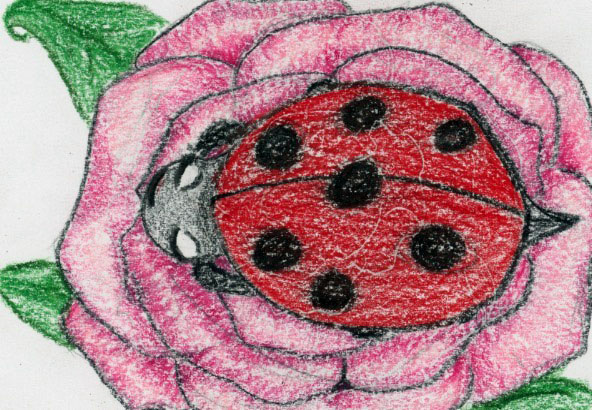 Podcast: Play in new window | Download
Subscribe: Apple Podcasts | Android | Google Podcasts | Stitcher | TuneIn | Spotify
All the flowers look cozy. Leticia, the lucky ladybug, looks for a lovely home. One flower is too soft, one flower is too cold. How will the ladybug choose?
Final 3 Dragon Breaths: 8:04
Narrator: Female
Lucky Ladybug Story Excerpt:
Soon, the little ladybug spotted a purple flower that looked very soft.  She decided to try it out.  The flower was indeed very soft.  In fact, Leticia felt herself sinking into it slightly, and the feather like petals tickled her belly.  She giggled and decided to move onto a leaf or a stem to see if that would feel a little more sturdy.
Today's Meditation: Today, enjoy the feeling of your body relaxing into the warm sand on a sunny beach.
We would appreciate your help getting the word out about Ahway Island bedtime stories podcast on social media.  Please follow us on Facebook, Twitter and YouTube.
Be Calm on Ahway Island offers original bedtime stories, like Lucky Ladybug, & meditations for kids. Gently nestled within are self-soothing techniques and positive learning moments.  Creating original bedtime stories and art is a lot of work. We are a listener-supported podcast, and we survive on your tips. If your child enjoys Be Calm on Ahway Island podcast, we would greatly appreciate you making a donation to help us keep going. You can make a one-time donation or a recurring micro donation once a month. Just click on the link below or go to our website, www.ahwayisland.com.
We hope your child loves our stories and self-soothing meditations. If so, we need your positive reviews to help others find us too. You can leave a review on your favorite podcast app, or go to iTunes. It's fast and easy! Just tap this link: review here, then tap the "view in iTunes" button, tap "ratings and reviews," and leave your review.
Did you know we now have a YouTube channel? Check out the video page on our website AhwayIsland.com. We hope you enjoy it and share our channel with others.
Thank you!  If you liked Lucky Ladybug here's another episode you're sure to enjoy. Try Beautiful Butterfly!