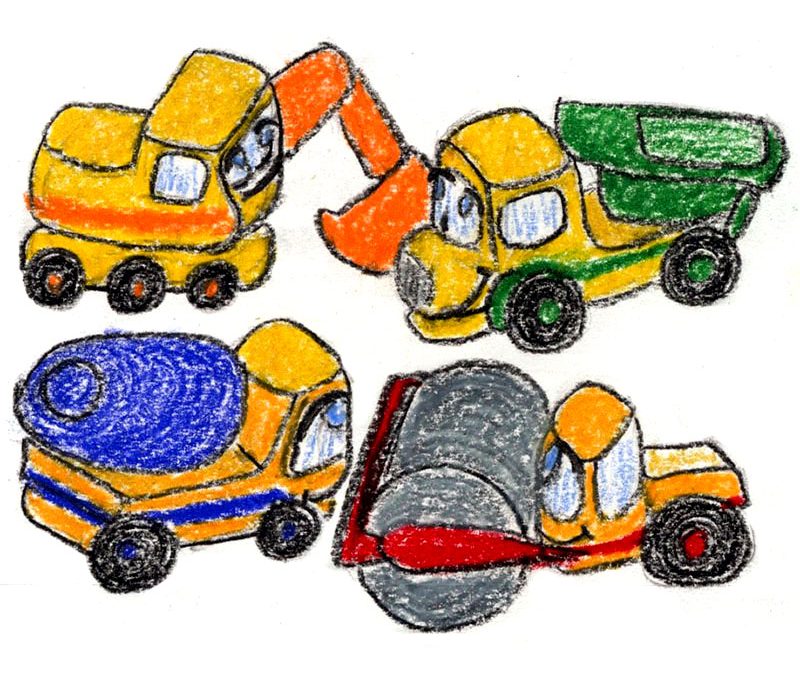 Podcast: Play in new window | Download
Subscribe: Apple Podcasts | Google Podcasts | Spotify | Pandora | iHeartRadio | Stitcher | TuneIn | Deezer | RSS | More
The construction crew has a new build. What will they make today?
Hello everyone!  We hope you enjoyed our new story this week. Now, welcome to Favorite Friday! Sometimes we like to listen to our favorites again. Please enjoy "The Build" and we'll be back with a new story on Monday!
Narrator: Male
The Build Excerpt:
Ellie the Excavator woke with a smile, as usual.  She was ready to continue the tunnel project and hoped that the others were ready as well.  Sunshine spilled into her cozy garage as the door slowly rolled open. Ellie rumbled happily out of her garage, excited to see the others. Of course Danny the Dump Truck was already out and waiting for Ellie.  He felt excited, too.

"What took you so long?" Danny asked with a twinkle in his eye.

"I didn't want to wake you," Ellie replied, smiling. "Are you ready to work on the tunnel again?"

"I sure am!  I think the train noticed us last time, and wants to use it as well.  So we had better get going,"  Danny said.

"Hold on, Danny."  Ellie understood his excitement; she wanted to impress the train, too.  "We're going to need the others today.  We finished digging the trench, remember?"

Then the little excavator spotted Dizzy the Concrete Mixer.  Dizzy drove over towards them, already spinning. Ronald the Roller joined them as well, eager to get started.

Then the Contractor walked out to the construction crew.

"OK, everyone." He paused.  "Ellie and Danny have done a great job digging the tunnel carefully through the forest."
Today's Meditation: Imagine floating on a cloud, and relax into the feeling of lightness.
Looking for a podcast to help settle your child in for nap time, bedtime or a break?  You'll find it on Ahway Island®. Be Calm on Ahway Island® Podcast offers original bedtime stories, like "The Build," paired with meditations for kids. We help them drift off to sleep with a guided relaxation and a calming story. Gently nestled within each podcast episode are mindfulness techniques and positive learning moments.  To learn more about our mission at Ahway Island and our team please visit our website.
Creating the original bedtime stories and art for Be Calm on Ahway Island takes a lot of time and care.
As a listener-supported podcast, we truly appreciate our members on Patreon. If you're not already a member, please consider joining! Writing, recording, editing, and publishing episodes and managing digital platforms is an enormous endeavor. Our Patreon program will help continue to grow Ahway Island and we hope you will support us! You can choose from 3 different Membership Levels, all of which include access to our Archives and an extra episode each week!
Are you and your children enjoying our stories and self-soothing meditations?
We hope your child loved "The Build!" We ask for your positive reviews to help others find us, too! Please leave a 5-star review on your favorite podcast app (such as Apple Podcasts) or on our Amazon Alexa Skill page. And, please follow, like, and/or share our social media profiles (Facebook, Twitter, Instagram ) to help us bring our original stories with positive messages to even more listeners!
One more thing: did you know we also have a YouTube channel? Check out the video page on our website AhwayIsland.com. We hope you enjoy the calming videos and share our channel with others!
In the press:
We're included in 8 Snow Day Activities That the Whole Family Will Enjoy!
SheKnows recommends us as as a podcast you and your kids will love!
We're reaching listeners internationally! Sassy Mama Hong Kong included us in their article on transitioning into the new year, Sassy Mama Singapore recommends us for limiting screen-time while sheltering at home, and Haven Magazine Australia included us in their tips for getting through the school holidays.
Thanks, Mommy Poppins, for saying our "soothing stories are like melatonin for the soul!" ♡
Finally, Digital Trends warns listeners that "you may not make it through an entire episode fully conscious." Yay!
Thank you for your help in spreading the word about our bedtime stories podcast, Be Calm on Ahway Island!